We NEED your district's Good News stories
With Gov. Dennis Daugaard's recent proposal to put more than $80 million in total funding towards public education through a half cent increase to the sales tax, we need to share the stories that prove why our public school districts are great with our legislators and the public.
There's just TWO more weeks to submit your district's feats of accomplishment or innovation, successful cooperative community projects or any story that makes you proud of your district for the third edition of ASBSD's The Good News Bulletin, which will be printed and distributed to school statewide in 2016.
Submit story ideas, along with a photo, by Friday, Feburary 5 via email to tpickner@asbsd.org.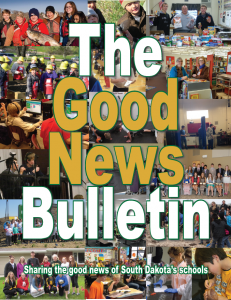 "Every school district has good news to share," said ASBSD Executive Director Wade Pogany, "and we want the entire state to know what great things our public schools are up to."
If there are any questions about submitting stories please contact Tyler.