The schedule is set for the premier learning event for school board members and administrators!
The 2019 ASBSD-SASD Convention will be held Thursday and Friday, August 8-9 at the Sioux Falls Convention Center and feature nearly 40 informative breakout sessions covering school finance, school board governance, student achievement, important legal topics in K-12 education and much more.
Read the descriptions for each Breakout Session here.
More than 500 school board members and administrators will attend Convention, which will be headlined by keynote speeches from legendary Nebraska Cornhuskers Football Coach Tom Osborne and the Producer of the popular film Napoleon Dynamite, Sean Covel and also include more than one hundred exhibitors offering great services to K-12 education.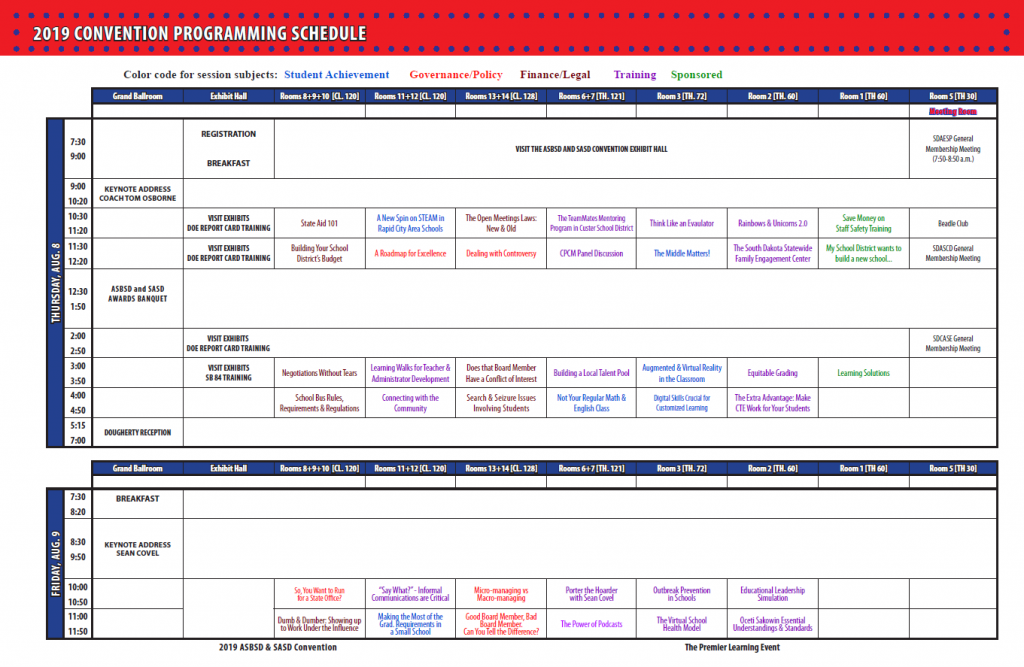 Download the 2019 ASBSD-SASD Convention schedule here.
FIRST YEAR board members and administrators can attend Convention for a discounted rate of $125 – a $60 savings – per attendee with regular registration cost for the two-day conference at $185 per person.
Registration cost for first year board members and administrators completed after Tuesday, July 16 is $165 and all other registrations are $225 per person after Tuesday, July 16.
Click here to register for the 2019 ASBSD-SASD Convention.
ASBSD and SASD are again continuing the registration promotion for districts registering 3 school board members receiving a FREE registration for one administrator.
Attending Board members earn 20 ALL points for their school board and administrators earn 15 CEU's.
For non-ASBSD and SASD members, the rate is $370 for registrations received by July 16 and $450 from July 17 up to and including the day of the event.
Registration fees cover meals, all professional workshop fees, access to networking events and costs of all materials. A cancellation fee of $50 is charged if the registration is cancelled after Tuesday, July 16.