Although the school year is near the end and summer set to begin, school boards will continue their work.
As you continue your work, your board still has a chance to earn points towards ASBSD's Board Recognition Program – ALL: Act, Learn, Lead.
ALL recognizes board members' participation in outside activities, board development and training, and demonstrated leadership at a variety of levels, with points earned by participating in ASBSD activities, training opportunities and demonstrating leadership at the local, state and national level throughout the fiscal year (July 1-June 30).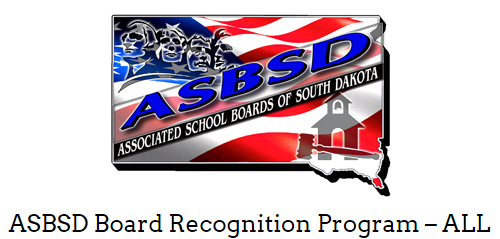 Through April of this year, we've tallied up ASBSD's "ALL Scoreboard" which shows the ten most active school boards thus far:
Howard School Board – 1010 points
Todd County School Board – 1005 points
Rapid City School Board – 905 points
Yankton School Board – 855 points
Newell School Board – 790 points
Douglas – 645 points
(Tie) Hot Springs and Platte-Geddes School Boards – 630 points
Haakon School Board – 615 points
Bon Homme School Board – 570 points
Thus far through the fiscal year, 143 school boards have accumulated ALL points with boards able to earn Gold, Silver and Bronze awards for their point totals.
Gold level status has been earned by 14 boards, nine boards have reached the silver level and 24 boards are on the bronze level; meaning nearly 1/3 of the total number of school boards in South Dakota earning an ALL award in the inaugural year of the program!
If you would like to know how many points your district has earned, email Tyler at tpickner@asbsd.org for more information.
"We're ecstatic about the level of participation and commitment South Dakota's school boards have shown this year," ASBSD Leadership Development Director Randy Royer said.
"With almost 50 boards having earned an ALL award and nearly 100 netting 100 points, we're seeing what we already knew: the state's school boards are dedicated to bettering themselves in order to enhance the education provided to their district's students."
There's still time for your school board to earn points this year by scheduling a GAVEL training or registering for and completing a School Board U course.
Contact Leadership Develop Director Dr. Randall Royer at 605-773-2504 or rroyer@asbsd.org for more information about these learning opportunities.