Through the first two months of available activities and training events, more than 30 school boards have earned a board recognition award.
This year (2019-20) marks the fourth for ASBSD's board recognition program: ALL, which stands for Act, Learn, Lead, and recognizes board members' dedicated participation in a variety areas, with points earned by participating in ASBSD activities, training opportunities and demonstrating leadership at the local, state and national level throughout the fiscal year (July 1-June 30).
Thus far six boards have earned a Gold Level (minimum 500 points) award, 12 have reached the Silver Level (minimum 350 points) and 13 are Bronze Level (minimum 250 points) honorees.
Gold member school boards:  Lyman, Colome Consolidated, Deubrook Area, Montrose, Yankton and Howard.
Silver level school boards: Madison Central, Meade, Todd County, Hot Springs, Sisseton, Herreid, Hill City, Custer, Oldham-Ramona, White River, Marion and McLaughlin.
Bronze earning school boards include: Bon Homme, Newell, Oglala Lakota County, Scotland, Eagle Butte, Platte-Geddes, Aberdeen, Rapid City, Deuel, Kimball, Sioux Falls, Wagner and Wilmot.
In addition to the current award winners, there are 14 school boards within 50 points of Bronze Level and another 12 within 100 points.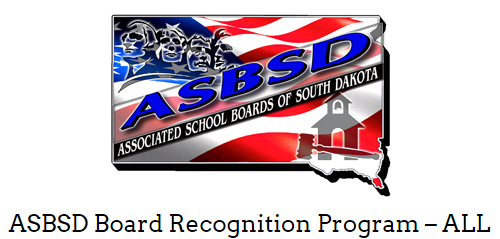 And those boards, among all others, have plenty of more chances to earn points this fall and through the rest of the school year with Region Meetings (10 points for attending), School Law Seminars (30 points) and School Law Webinars (20 points) highlighting the event calendar.
Learn more about Region Meetings here.
There's also Delegate Assembly coming up in November, which offers two opportunities for boards to accumulate points; one simply for appointing a Delegate (25 points) and the other for the district's Delegate attending Assembly (25 points).
Learn more about appointing your board's Delegate and Assembly here.
A great way for your board to enhance your knowledge of school board work and accumulate ALL points is by scheduling a GAVEL Training, which count for a total of three years in the ALL program. ASBSD has brought on veteran Superintendent Jim Holbeck to head the board training program, which offers three training options:
School Board Governance;
Fiscal Responsibility;
Strategic Planning.
School boards completing a GAVEL training can earn 40 points for each training attendee!
However your board earns ALL points, we hope you'll take advantage of the opportunities available to enhance your knowledge of board work and stay informed about issues in public education.
"We're so proud of all the work our school boards are doing to ensure their operating a high-quality school district for their students, staff and community members," ASBSD Executive Director Wade Pogany said.
"I encourage board members from across the state to continue to take part in any development opportunity they can and in turn be honored for their dedicated participation through the ALL program."
For updates on ALL Award points for the 2019-20 school year, check the ASBSD Blog or contact Tyler at tpickner@asbsd.org.