Prepare to share your district's good news.
ASBSD wants to hear what your board members, administrators, teachers, staff members, students and community members are proud of for the fifth edition of The Good News Bulletin.
In the past four years, more than 100 districts have submitted 250 plus stories of student achievement, community engagement, exemplary staff members, collaboration among districts and much, much more!
Download and read the Good News Bulletin's first edition, second edition, third edition and fourth edition.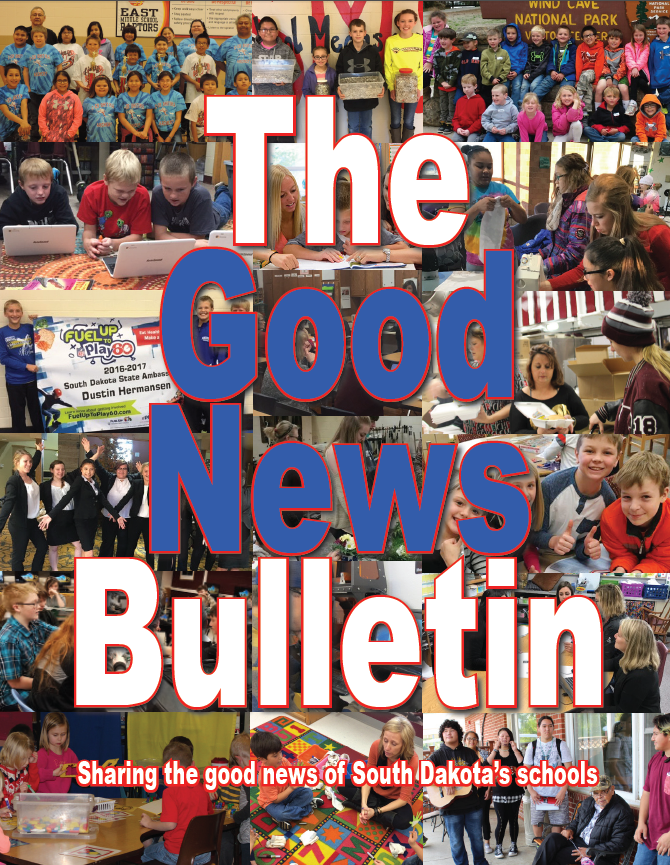 "Each year the Good News Bulletin has grown with stories about what makes our public schools so great," said ASBSD Executive Director Wade Pogany.
"The stories online and in the publication are all about our great South Dakota public schools and we want to keep sharing that good news to display how public education is one our state's finest assets."
Share your stories and story ideas with ASBSD, along with a photo, by Friday, June 1.  
ASBSD will print and distribute the latest edition of The Good News Bulletin statewide and post stories online at ASBSD's The Good News Bulletin website.
All we need is an idea, just email a line about what your good news is about, who can be contacted and photos to Tyler at tpickner@asbsd.org. Any questions you may have, can also be sent to Tyler.
Join us in sharing the good news from our South Dakota schools!