When June comes to a close so too does an era at ASBSD with a new one beginning on the first day of July.
After 11-years at ASBSD, and many more in school finance before, ASBSD Chief Financial Officer Bill Lynch is set to retire on June 30. On July 1, Matt Flett, current Director of the Protective Trust, will assume the role of CFO. Flett will continue serving as the Director of the Protective Trust.
"It's been great to get to know Bill personally and professionally," Flett said. "Working alongside him was a lot of fun and now to assume the role of CFO is something I'm really looking forward to."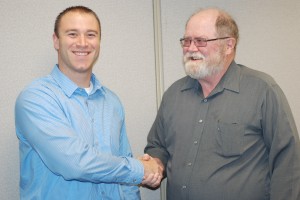 Flett initially joined ASBSD in 2013 to serve as Assistant Director of the Protective Trust before taking over as Director last year. The chance to provide insight on school district finance and promote the services offered by ASBSD to districts has Flett ready to get to work.
"I'm excited about the expanded role in finance with ASBSD," Flett said, "and am looking forward to enhancing the relationships already in place with school board members and administrators."
As we prepare to say goodbye to a veteran of ASBSD, we're thankful to have qualified candidate to step in to the position.
"We're grateful to Bill for providing service, imparting wisdom and always being dedicated to ASBSD during his time with us," ASBSD Executive Director Wade Pogany said. "And, we're lucky to have Matt already with us to seamlessly step into the CFO role."