South Dakota school districts cannot ignore their risk of facing a cybersecurity breach.
To avoid a breach, South Dakota's Bureau of Information and Telecommunications (BIT) and the Department of Education are partnering to expand the DDN services to include Cybersecurity Risk Assessments with a goal to ensure a school employs the technology, policies and best practices required for basic cyber hygiene.

"There's a variety of things that you need to be aware of to protect yourself," BIT Chief Information Security Officer Jim Edman said during his presentation at the recent ASBSD/COSA School Law Webinar.
"The number one goal is to better protect schools from cyber-attacks."
Edman discussed BIT's service and went in-depth on Critical Cybersecurity Recommendations for school districts during a recent ASBSD/COSA School Law Webinar, which you can register for here to receive a recording of the webinar and the presentation information.
ASBSD Event Registration Information for Individuals, to complete registration.
Board members registering for the School Law Webinar will earn 20 ALL points for their board and participants will also earn 1 hour of continuing education units! The cost is $60 per registrant.
BIT's assessment creates an objective snapshot of your information technology environment. An evaluation of your internal and external facing devices will determine a cybersecurity baseline.
"I can guarantee you that something always comes out of these assessments," Edman said of BIT's Cybersecurity Risk Assessment.
The assessments follow a seven-step process of reviewing audit logs, providing awareness training, checking documentation, assessing inventory, studying privileges, checking vulnerability management and completing security configurations.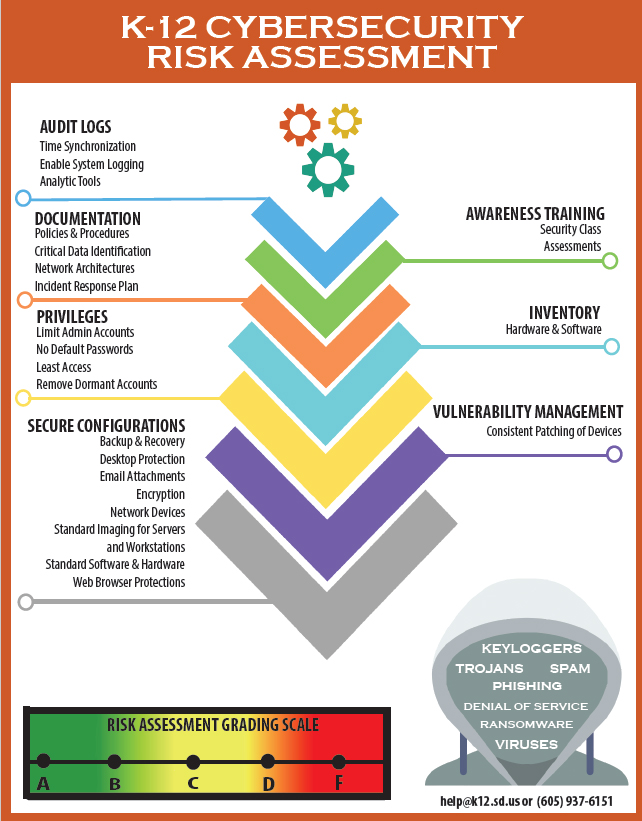 To get started, complete the self-assessment on the Members Site (members.k12.sd.us). It requires knowledge of your information technology infrastructure and policy, and we encourage you to complete this survey with your stakeholders, such as superintendents, principals, and/or business managers.
Edman also suggested school districts consider cyber insurance.
"It becomes a pretty expensive event if your school were to become infected by ransomware," Edman said.
ASB Protective Trust Property/Liability fund offers wide-ranging cyber coverage that includes breach response, data recovery and cyber extortion, among many other areas, all totaling up to $1 million in claims expenses. Contact Director of the Protective Trust Holly Nagel at hnagel@asbsd.org or at 605-773-2515 for more information on the coverage.
Edman reiterated BIT's commitment to their free K-12 Cybersecurity Risk Assessment program for.
"It (BIT's assessment program) comes at no cost," Edman said. "This is our big program we're offering."
To register for an assessment, or submit questions, concerns or comments, please contact the K-12 Help Desk at help@k12.sd.us or 605-937-6151.