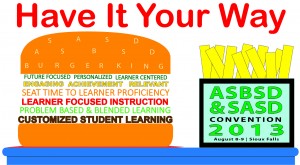 Have it your way at the 2013 ASBSD and SASD Joint Convention!
Highlighted by our mass customized learning theme, this year's convention features a keynote speech from a renowned MCL advocate and a multitude of breakout sessions covering the subject. In addition, the Joint Convention will offer attendees a variety of learning opportunities.
Thursday will be headlined by Tom Vander Ark's keynote speech covering mass customized learning and Friday features Darrell Scott of Rachel's Challenge talking about school safety. A panel discussion on school safety will follow Friday's keynote speech.
Thursday's session begins at 9 a.m. with breakout sessions scheduled until approximately 5 p.m. Friday's keynote speech begins at 8:30 a.m. followed by the panel discussion at 9:30 and two time slots of breakout sessions until 12:20 p.m. to close out the convention.
Check the ASBSD blog later this week for a complete convention schedule and descriptions of this year's breakout sessions.
ASBSD and SASD are offering a great deal for any member district registering 3 school board members, they will receive FREE registration for one administrator. Registration received by July 12 is $185 and registration received after is $225. For non-members, registration is $370 by July 12 and $450 after.
To streamline convention registration, we're asking business managers complete registration online (contact Tyler at tpickner@asbsd.org for more information) for administrators and board members planning to attend.