National School Boards Association (NSBA) President Miranda Beard joined the ASBSD Board of Directors at their August meeting and spoke at ASBSD-SASD Convention.
At the ASBSD Board meeting, Beard, who began serving her year-long term as NSBA President in April, shared one of her motivations for serving on her local school board.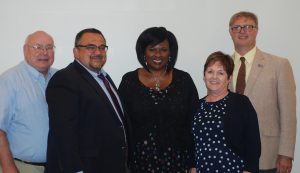 "I always wanted to give back to my community," Beard said. "What greater way to impact your community, your neighborhood than by impacting the lives of your children."
From Mississippi, Beard currently serves as the president of the Laurel School District Board, which she has served on for 15 years, and is also Past President of the Mississippi School Boards Association. She began serving on NSBA's Board of Directors in April, 2011.
On the opening day of Convention, Beard, along with Mitchell School Board Member and NSBA Western Region Director Neil Putnam, provided insight on how the voices of school boards are heard in Washington, D.C. through the work of NSBA during their breakout session: When School Boards Speak, D.C. listens.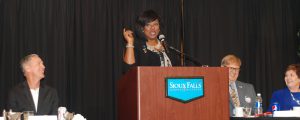 Beard also addressed the Convention's Awards Banquet crowd.
"It is through public education that I am who I am today," Beard said, adding that board members must "expect greatness from the board room to the classroom."
Beard also had the chance for some recreation while in The Mount Rushmore State. She traversed across the state, spending a night in Philip and visiting the state's famous monument while in the Black Hills.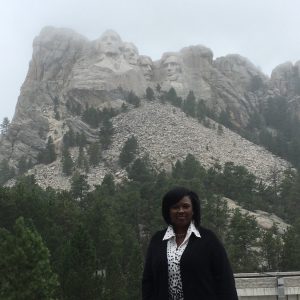 "It was an honor to have President Beard join us for Convention," ASBSD Executive Director Wade Pogany said. "She's an inspirational leader with a great message about public education."