For the sixth year running, the p-Card Program added more members and earned more in rebates.
The p-Card Program, which is supported by ASBSD and the Illinois Association of Business Officials, saw a growth from 27 participating members in 2017 to 29 in 2018 and those members earned $82,420 in total rebates this year.
In 2012, two districts earned more than $10,000 in rebates, seven-member districts earned $16,000 in total rebates in 2013, then 14 members in 2014 reached a rebate amount of $39,000, the following year (2015) 22 districts earned a total rebate of more than $48,000, 2016 saw 24 p-Card members divvy up $55,000 in rebates and last year 27 school districts picked up more than $66,000 in total rebates.
The p-Card operates similarly to a credit card, but unlike a personal credit card, no one in the district needs to provide their personal information. The p-Card account is set up based on the financial strength of the school district and with more districts participating in the program and more dollars spent with the p-Card, the higher the increases for the rebate percentage for the entire group.
"The participation in the p-Card Program continues to grow and in turn the total rebate amount member districts receive follows suit," ASBSD CFO Matt Flett said. "These districts' choice to utilize the p-Card Program shows they are a model of financial efficiency."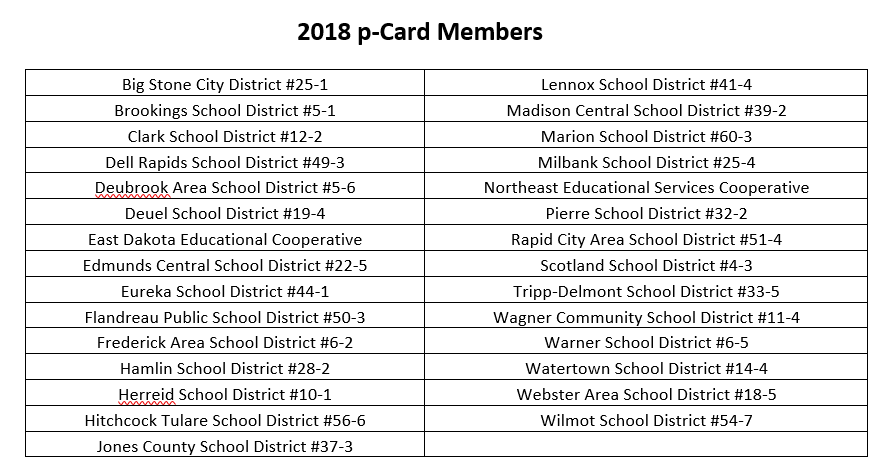 As the program matures, even school districts that have participated in the program for a few years have become more innovative utilizing the program.
Two examples are the Lennox and Milbank School Districts, who have participated in the p-Card program for many years, and this past year each increased their p-Card spend by 90 percent and 70 percent, respectively, in one year. The increased p-Card spend resulted in each district receiving more than 100 percent increase in rebate this year over last year.
"The business office in these schools are becoming more and more creative on how to optimize p-Card use," Flett said, reminding all school districts need to continually review their p-Card policy and internal controls surrounding p-Card use.
The rebates attached to the p-Card are based on overall spend of all the participating districts in the state.
In 2017, ASBSD signed a five-year memorandum of understanding with IASBO, which features increased rebate percentage tiers and various bonus rebates based on average spend for the year, and South Dakota's increased p-Card spend moved the entire program into a higher rebate tier that has resulted in more dollars in rebates for participating school districts.
"We look forward to continuing to work with our members and IASBO to continue to offer a flexible, secure, and competitive p-Card program," Flett said.
"And we invite South Dakota school districts to take a look at the program and consider joining as the more members we add the more rebate dollars we can earn and distribute to members."
If you are interested in joining the program, please contact Matt at mflett@asbsd.org or 605-773-2515.