Policies of a school district, especially those negotiated with bargaining representatives for the protection of teachers, have the full force and effect of law, and legally bind the school district.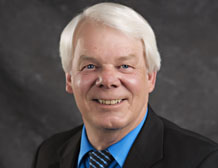 By Gerry Kaufman, ASBSD Director of Policy & Legal Services
ASBSD's sample school policies have seen some updates recently.
ASBSD has amended four sample policies, renamed three sample policies and deleted one sample policy.
Among the amended sample polices are BFC: Policy Adoption.
"While a school board may certainly have multiple readings of a policy before the policy is adopted, nothing in state law requires a school board to have multiple readings," ASBSD Director of Policy and Legal Services Gerry Kaufman said. "The amended policy recognizes that fact."
Kaufman noted a school board can always defer action on a proposed policy or policy amendment until a future school board meeting, but added that board meeting schedules play a role in the process.
"Given the fact that most school boards meet only once a month, it makes sense for board policy to have the authority to amend a policy or adopt a new policy at the meeting that the amended or new policy is proposed," Kaufman said.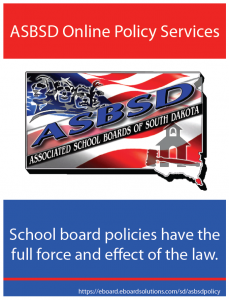 Be sure to check out our new online policy services that will streamline your school board policy process.
Other amended policies include:
GBCA: Staff Conflict of Interest
GBCB: Staff Conduct
GBCBA: Freedom of Expression
Policy BBE: Unexpired Term Fulfillment became BBE: School Board Member Vacancy. BBE-E: Application for Board of Education Membership Form was renamed to BBE-E: School Board Member Vacancy – Application to Complete Unexpired Term. Finally, policy GCN-E: Professional Staff Evaluation Form was retitled to GCN-E: Professional Teaching Staff Evaluation – Form.
BDDEA: Parliamentarian policy was deleted.
School board members and administrators from ASBSD member districts may access sample policies through the ASBSD Online Policy Reference Manual at http://policy.asbsd.org. Download a navigation guide to the website here.
A login and password are necessary to access the Online Policy Manual and that information has been previously provided to your district's administration.
If you are not able to access the online policy manual, please contact your district's administration or ASBSD Policy Services Associate Kay Thompson-Tieszen at kay@asbsd.org.