Associated School Boards of South Dakota and the School Administrators of South Dakota have joined the South Dakota's Chiefs and Sheriffs Association, Project StandUp and the South Dakota Attorney General's Office to bring an anonymous tipping platform for school violence to South Dakota.
The new public safety tool, which the S.D. Department of Criminal Investigation has been working on, is an optional tool for school districts based on school safety concerns and is very similar to Project StandUp, which has been in place for anonymous drug tips since May of 2017.
ASBSD and SASD have been involved in the discussion and development process and believe the Project StandUp for School Safety program is a good option for schools.
"The Project StandUp for School Safety program will offer school districts another component to enhance safety in their school buildings," ASBSD Executive Director Wade Pogany.
"Students' safety and well-being, both mentally and physically, is the top priority of school districts."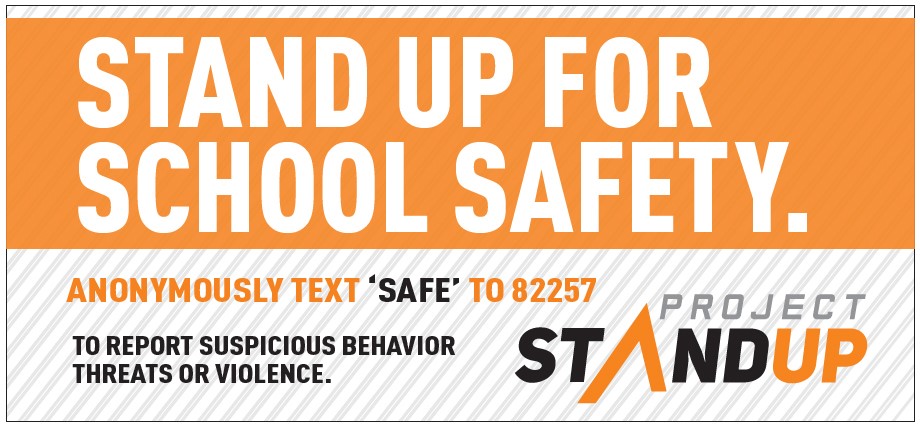 Local law enforcement agencies will be contacting districts to gauge their interest in participating in the Project StandUp for School Safety program, which operates similarly to the anonymous drug tip program, but collects tips on potential school threats.
There is no cost to associated with the implementation of the program.
Project StandUp for School Safety is initiated by texting the word "safe" to 82257 followed by the submitting individual receiving a follow up text message with eight questions that, when answered in the ensuring text message, will result in an email being immediately distributed with the submitted information to the school officials, School Resource Officers and local law enforcement designated by the district and the law enforcement upon implementation of the program.
Once an agreement is reached between local law enforcement and the school district, the S.D. DCI will request email addresses of all those designated to receive the email notification of a school safety threat for the school identified within the tip. There is no maximum number of email addresses that can be added to the system.
This project will be ready for launch for the 2018-2019 school year.
Should you have questions about the program, please contact Wade at wpogany@asbsd.org or at 605-773-2500.