Searching for qualified teachers and administrators to fill staff positions? The South Dakota Teacher Placement Center can help.
Using a web-based system, the Teacher Placement Center compiles a comprehensive database comprised of potential teacher applicants and school districts with open positions to make filling staff positions easier.
Contact Teacher Placement Center Manager Emily Somsen via email or at 605-773-2508.
ASBSD Teacher Placement website is now FREE for ASBSD members!
For more than 20 years, ASBSD's Teacher Placement website has served districts, schools and cooperatives in finding teachers and staff members.
This summer, the ASBSD Teacher Placement website is getting a new look AND it will be offered as a FREE service for all ASBSD members!
Here's what you need to know about the FREE service for ASBSD's Teacher Placement website:
Links, logins and passwords for posting jobs or seeking positions stay the same;
You'll post positions and search for them exactly the same as you have before;
ASBSD will run the Teacher Placement website like we always have, in South Dakota! Questions about using Teacher Placement? Here's our Teacher Placement Manager's contact information:

Teacher Placement Manager Emily Somsen
605-773-2508

There is no other website in South Dakota that can offer you the ease of posting open positions in your district OR if you're seeking a position.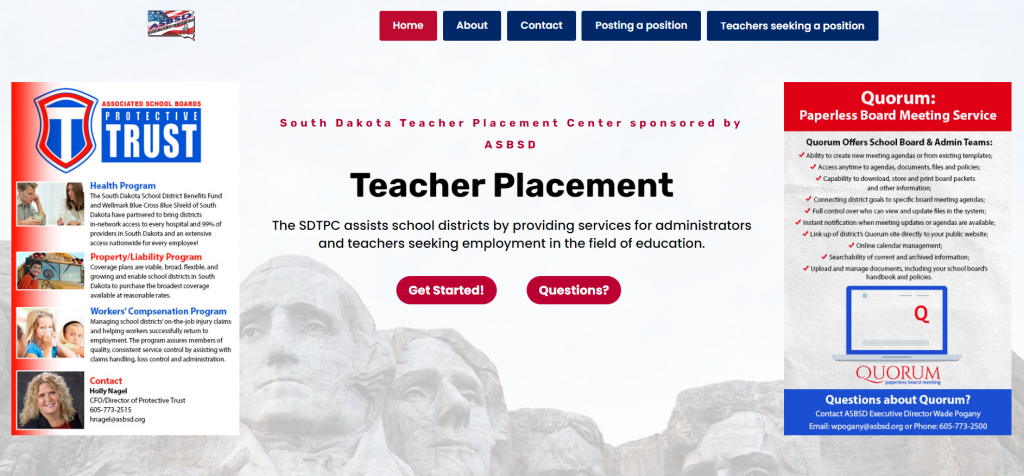 The updated ASBSD Teacher Placement website will have ads – if the featured service interests you, click on the ad and find out more about it – but that won't interrupt anything you're used to on the site.