This month, members of the School Finance Accountability Board met to determine the fate of waivers presented to them from school districts who did not meet one, or both, mandates tied to ensure an increase to teacher salaries and approve their final report to the legislative Appropriations committee.
"This very important work, which is a follow up to the bold initiatives of the legislature and the voters of South Dakota in supporting their legislators in the impact of the…new funding formula," Huron Superintendent and SFAB Chairman Terry Nebelsick said to start the November 16-17 meetings.
Thirty-six South Dakota school districts missed the mandates, which required 85 percent of the total state aid dollars be allocated for teacher pay and benefits AND  85 percent of the new revenue percentage increase schools received to be spent on certified instructional staff. Districts not meeting the mandate face a penalty of a 50 percent of their increase in state aid be returned to state.
Two districts were considered exempt from the waiver process because they did not receive state aid, which left 34 districts required to submit a waiver to avoid penalty.
SFAB members voted to accept data corrections from five school districts that determined they were not in violation of the mandates.
The School Finance Accountability Board granted 15 school districts – including five who missed mandate by 0.5 percent or less and were required to submit a waiver, but not to present testimony before the board – unconditional waivers from the financial penalty.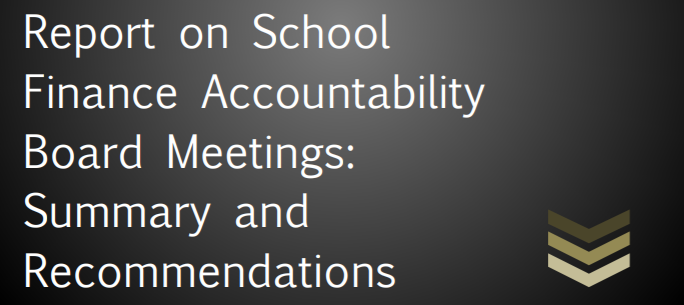 Conditional waivers were granted by SFAB members to 14 school districts.
To meet the conditional waivers, school districts must reopen negotiations with their current certified teaching staff and include a dollar amount set by the board in contracts. Negotiations must be completed by February 1, 2018, but the pay out of the required amounts may occur any time before the end of the fiscal year.
Following the waiver hearings, SFAB members reconvened on Monday, November 27 to approve their final report, which by rule must be presented to the Appropriations committee.
Download the School Finance Accountability Board's final report here.
The board unanimously approved the report and it was submitted to Appropriations committee. Legislative Appropriators will review waivers and decide whether to concur in the waiver approvals or deny the requests at their meeting on Tuesday, December 5 at 7:30 a.m. in Pierre.
ASBSD will provide updates on the Appropriations committee's decision on the ASBSD Blog and Twitter feed.