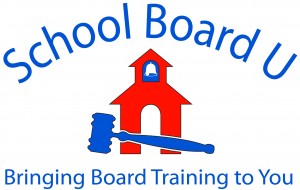 ASBSD School Board U is an online training site for school board members that offers seven course options: GAVEL School Board Governance, GAVEL Fiscal Responsibility, GAVEL Strategic Planning, a New Board Member Workshop, Ethical School Board Service,  and Board President and Superintendent Relationship.
Download Course Descriptions here
Developed by the Georgia School Board Association and hosted by their affiliate, Crescerance, School Board U allows school board members to complete training individually, at their own pace and from the comfort of their home.
"Training with SBU was not only informative, but also convenient. You can complete a course at your own pace and whenever or wherever works best for you." Douglas School Board Member Bryan Bauer on ASBSD School Board U 
If you are a new school board member or if your fellow board members have previously completed training in one of these courses, School Board U will cover your training needs.
Veteran board members looking to review or gain new knowledge in Board Governance, Strategic Planning and/or Ethical School Board Service can also do so through ASBSD School Board U.
And, with the implementation of the state's new school funding formula, everyone could benefit from School Board U's revamped GAVEL Fiscal Responsibility course.
Want to get all your board members on the same knowledge plane? Follow The Yankton Model!
School board members seeking training will commit approximately 3-4 hours to the course they choose to complete. Courses don't just follow a lecture and read model, but rather feature interactive videos and activities to help engage trainees.
The cost of each course is $100 per registrant, except for the New School Board Member workshop and Ethical School Board Service courses which are $50, and the Board President and Superintendent Relationship, which is free for individuals in those corresponding roles.
Registration must completed online by your district's business manager – similar to how registration is completed for other ASBSD events.
Registration links can be found on our Events page; if you have questions about registration please contact Tyler at tpickner@asbsd.org.
Logging in to School Board U for the first time? Click here to help you get started.
"Not only was it great information to process while taking the course, but I also feel it will be a valuable resource to continue to look back on when needed." Yankton School Board Member Frani Kiefer on the ASBSD School Board U School Board Governance course
If you have questions about School Board U, please contact Leadership Develop Director Dr. Randall Royer at 605-773-2504 or rroyer@asbsd.org.