School board policies have the full force and effect of the law
Wessington Springs Ed. Assoc. v. Wessington Springs Sch. Dist., 467 N.W.2d 101 (S.D. 1991)
INCLUDED WITH ASBSD MEMBERSHIP
Policy Consultation: Phone and email consultation and responses to policy related questions.
Policy Alert: ASBSD's comprehensive line of Policy Services includes timely and relevant information through ASBSD Policy Alert, which is the school's source for the latest updates, commentary and information on school district policy.
Online Sample Policies: The ASBSD Policy Reference Manual is an ASBSD member school service for use by school board members and school administrators when reviewing, analyzing, revising and drafting school district policies.
The ASBSD Online Policy Reference manual contains hundreds of easily searchable, up-to-date sample policies, administrative regulations and exhibits. Every policy is linked to the appropriate legal references. ASBSD sample policies, exhibits and regulations are for the exclusive benefit of ASBSD member school districts, board members and administrators.
A username and password are required to access ASBSD sample policies. 
As is the case with any policy, a local school district's unique circumstances, challenges and opportunities need to be considered. Sample policies contained in the ASBSD Policy Reference Manual do not constitute legal advice.
ASBSD sample policies, exhibits and regulations are copyrighted by the Associated School Boards of South Dakota. No policy contained in the manual may be reproduced, copied, transmitted, or distributed, in any form, for which a fee or other cost is assessed.
However, school board members and school administrators of ASBSD member schools may reproduce, copy, transmit, or distribute any ASBSD sample policy for the purpose of assisting the local school district when drafting, reviewing and amending school district policies.
ASBSD FEE BASED POLICY SERVICES:  
Policy review, analysis, revision and drafting of school district policies,
Collective Bargaining Agreement review and analysis,
Employee and Student Handbook review, analysis and revision,
Online hosting of school district policies.
For a complete list of the services and related fees, log into the ASBSD Policy Reference Manual and click on the Policy Services Cost Information link found on the right side of the screen under the red banner labeled News and the Policy Information header.
If help is needed to access the manual, contact Kay Thompson-Tieszen – Policy Services Associate at (605) 773-5204 or kay@asbsd.org.
ASBSD ONLINE POLICY SERVICES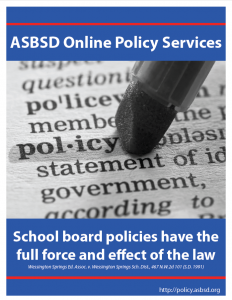 Download the ASBSD Online Policy Services brochure here.
"It has helped us review our policy book with much more accuracy and efficiency." – Miller Superintendent Dan Trefz
Along with the current sample school policies, consultation to policy questions and Policy Alerts at no cost to member districts, comes a new, subscription based feature that will streamline your school board policy process. Our new online policy service can provide your district with:
Organization of your district's policy book electronically with a personalized website hosted by ASBSD & Simbli,
Administrators and school board members can review your district's policies at any time through your district's policy page,
Ten hours of in‐depth analysis and review of your policies, written amendments to current policies and drafting of new policies (available to new subscribers for one year),
Current policy access and edit capabilities and add new policies in real time as your school board is amending and adopting,
The

ability to search policies of other school websites

hosted by ASBSD/Simbli.
"One of the most useful tools we have ever used to conduct a comprehensive review of board policies." – Edmunds Central Superintendent Karen Fox
ASBSD Online Policy Services is available by subscription.  There is a one-time set up fee of $1,000, which includes online training for use of software and ten hours of in‐depth analysis and review of your policies, written amendments to current policies and drafting of new policies. There is an annual hosting fee which is based on your district's enrollment:
Less Than 250 — $300
251 to 500 — $600
501 to 750 — $900
751 to 1,000 — $1,200
1,001 to 1,750 — $1,500
1,751 to 2,500 — $1,800
2,501 to 5,000 — $2,400
5,001 to 7,500 — $3,000
7,501 to 25,000 — $3,600
Over 25,000 — $4,300
Twelve school districts are currently members of ASBSD's online school board policy community: Alcester-Hudson, Bennett County, Centerville, Edmunds Central, Elkton, Iroquois, Howard, Kimball, Leola, McIntosh, Miller and Tripp-Delmont.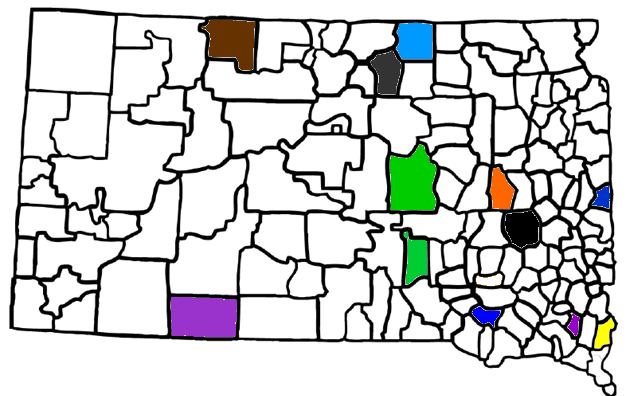 "Working with ASBSD and their online policy services has made this project enjoyable and educational for the administration and the school board." – Kimball Superintendent Jeff Rieckman
If you would like additional information on how our new online policy services can streamline your district's school board policy process, please contact Director of Policy and Legal Services Gerry Kaufman at gkaufman@asbsd.org or 605-773-2513.