The 89th legislative summary concluded on Monday, March 31 with "Veto Day" and with the conclusion comes the publication of ASBSD's 2014 Legislative Summary.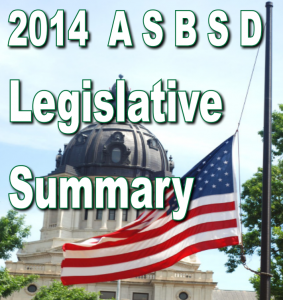 You can download the legislative summary here. Or visit our Publications and Forms page – link at the top of the homepage – and download the summary under the "2014 ASBSD Legislative Summary" header.
ASBSD Executive Director Wade Pogany, SASD Executive Rob Monson and Secretary of Education Melody Schopp recap the bills passed by the legislature and signed into law by Gov. Dennis Daugaard. The trio discuss funding, policy and Common Core bills; among other legislation.
Click here to watch the video.
If you have questions about the summary, please contact Pogany at 605-773-2500 or at wpogany@asbsd.org or Director of Communications Tyler Pickner by phone at 605-773-8382 or 605-881-3791 or via email at tpickner@asbsd.org.