The premier learning event for South Dakota school board members and administrators, the ASBSD/SASD Joint Convention will be held at the Sioux Falls Convention Center on August 6 & 7, 2015.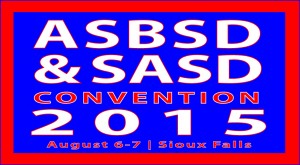 We're seeking people to share their expertise and knowledge with the large contingent of school leaders expected to attend Convention.
If you or someone you know has an informative topic they'd be of interested in presenting during a breakout session, please complete the breakout session proposal form and email it to Kara Brandlee of SASD at kara.brandlee@sasd.org.
The breakout session proposal form can also be downloaded from the Publications and Forms page on the ASBSD website.
The deadline to submit proposals is Monday, April 20, 2015.  
ASBSD and SASD will review submitted proposals and contact the applicant(s) of proposals placed on the Convention schedule in May.