School Districts seeking highly qualified teacher and administrator candidates can find them at the 2015 South Dakota Teacher Job Fair.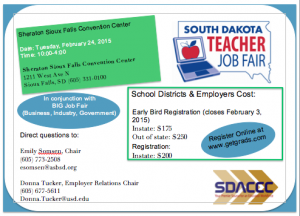 The job fair, sponsored by the South Dakota Association of College Career Centers, will be held Tuesday, Feb. 24 from 10 a.m. to 4 p.m. in Sioux Falls at the Convention Center.
School districts can register for a place at the job fair at www.getgrads.com. The cost of registration is $175 for in-state schools if completed by Feb. 3. After Feb. 3 the cost of registration for in-state schools is $200. Out-of-state registration cost is $250.
If you have questions about the job fair and/or registration, please contact Emily Somsen at esomsen@asbsd.org or at 605-773-5611 or Donna Tucker at donna.tucker@usd.edu or at 605-677-561.