School board members and legislators came together for ASBSD's Legislative Day on Tuesday (Feb. 17) to honor a few of the state's best school board members and talk about the future of K-12 education.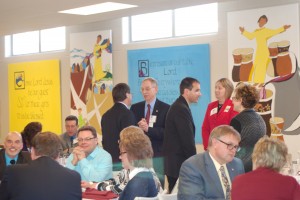 The two groups of elected officials met for lunch at the Lutheran Memorial Church across the street from the Capitol building where they took time to honor the School Board Member of the Year Chris Esping from Vermillion and the School Board Award of Excellence recipients from Sioux Valley.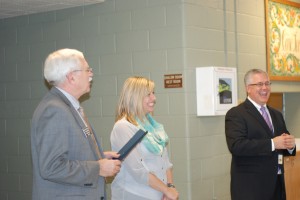 Both awards were presented at the 2014 ASBSD-SASD Convention.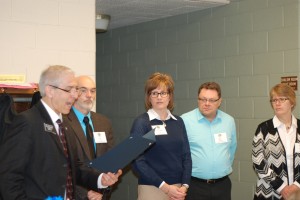 Sen. Arthur Rusch, who represents legislative district 17 from Vermillion, read the legislative proclamation submitted in Esping's honor and Rep. Fred Deutsch, representing district four which includes the Sioux Valley School District, honored the Sioux Valley School Board with their proclamation.
You can see pictures from the event here or by going to www.asbsd.org/asbsd.org.
Esping and the Sioux Valley School Board, represented by Gene Bjorklund, Gloria Koerlin, Michelle Strasburg and Jay Trenhaile, were also recognized in both the House and Senate chambers for their accomplishments.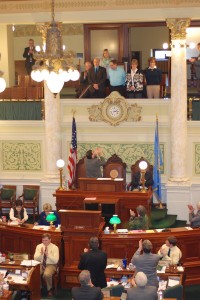 Along with sitting in on the afternoon sessions of the House and Senate, board members were able to attend the morning legislative committee meetings, which included the House Taxation committee's initial hearing on House Bill 1207 – the bill adjusting capital outlay.
Board members also engaged in a conversation about legislative session and bills with members of ASBSD's Board of Directors and Executive Director Wade Pogany.
"Legislative Day brings these two sets of elected officials together to talk about education and a chance to get to know or catch up with one another," Pogany said. "It's a great opportunity for board members to get to Pierre and advocate for education."