ASBSD invites school board members and administrators from member districts to our 2016 Legislative Day on Tuesday, February 16.
ASBSD Legislative Day is a day of advocacy and action in support of public education and celebration of the service of our school board members as part of South Dakota School Board Recognition Week.

School board members and administrators are invited to Pierre to learn about the latest status of bills impacting K-12 schools and to visit the Capitol to meet with legislators and make the collective K-12 education voice heard.
In addition, school board members will be honored for their service to public education as part of South Dakota School Board Recognition Week.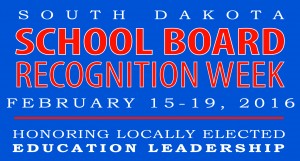 The event will be held at the Lutheran Memorial Church (320 E Prospect Ave., across street from the Capitol building) in Pierre beginning at 12 p.m. Agenda items include:
Pre-luncheon – Meet and lobby with your legislators or sit in on committee mornings at the Capitol.
12 p.m. – Luncheon at Lutheran Memorial Church.
1 p.m. – Review of legislative issues and lessons on effective advocacy with ASBSD.
2 p.m. – Walk to the Capitol Building where our award winners and board members in attendance will be honored.
Legislative Day also allows ASBSD to recognize the year's Outstanding School Board Member Tanya Olson of the Custer School District and the recipients of the School Board Award of Excellence from the Yankton School Board.
Members attending the ASBSD Legislative Day earn 5 Better Boardsmanship Credits toward the ASBSD Award of Merit.
There is a $25 fee for each individual who will be attending, which helps cover the cost of the meal and the meeting space. Deadline for registration is Thursday, Feb. 11. If an individual is unable to attend, cancellation must be completed by Thursday, Feb. 11 or a $15 cancellation fee will be applied.
Contact your district's business manager to get registered for the event.
If you have questions about the event, please contact ASBSD Executive Secretary Katie Mitchell-Boe at Katie@asbsd.org or at 605-773-2502.