2016 brought a new way for ASBSD to honor the tireless work of South Dakota's school boards.
ASBSD's Board Recognition Program – ALL: Act, Learn, Lead – which recognizes board members' participation in outside activities, board development and training, and demonstrated leadership at a variety of levels, was introduced and boards earned points.
School boards earn points by participating in ASBSD activities, training opportunities and demonstrating leadership at the local, state and national level throughout the fiscal year (July 1-June 30), with GAVEL Training and School Board U courses counted for a total of three years (2014-15, 2015-16 and 2016-17).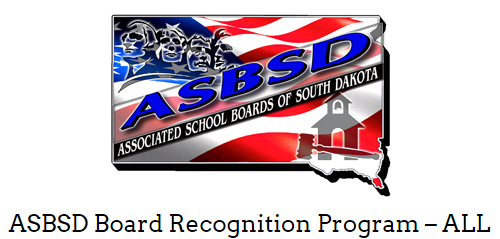 Through the fall and summer 2016 activities, we've tallied up ASBSD's "ALL Scoreboard" which shows the ten most active school boards thus far:
1. Howard School Board – 935 points
2. Yankton School Board – 755 points
3. (Tie) Douglas and Todd County School Boards – 625 points
5. Hot Springs School Board – 605 points
6. Bon Homme School Board – 570 points
7. Haakon School Board – 565 points
8. Deuel School Board – 515 points
9. Newell School Board – 485 points
10. White River School Board – 455 points
Through December, 138 school boards have accumulated ALL points with boards able to earn Gold, Silver and Bronze awards for their point totals.
So far eight boards have earned gold level status, eight boards have reached the silver level and 26 boards are on the bronze level. Including those who've reached the awards levels, 84 school boards have earned a 100 or more total points!
"The board recognition program is proof of the hard work our state's local school boards put in for their students, staffs and communities," ASBSD Leadership Development Director Randy Royer. "We're excited with all the participation so far and look forward to 2017's activities and opportunities."
School boards can earn points in 2017 by appointing a LAN Member, taking a School Board U course, registering for a Collective Bargaining Seminar, scheduling a GAVEL training or attending Legislative Day.
Visit the ALL webpage to learn what activities your board can participate in and how many points they'll need to accumulate to reach Gold, Silver or Bronze level. If you would like to know how many points your district has earned, email Tyler at tpickner@asbsd.org for more information.