Share ideas with ASBSD for stories from your district for the fourth edition of The Good News Bulletin.
"We just need an idea from a district and we'll take it from there for your good news story," ASBSD Executive Director Wade Pogany. "Every school district has good news to share and we want the entire state to know what great things our public schools are up to."
Send your district's idea – ANY IDEA – to tpickner@asbsd.org by Wednesday, Feburary 15, 2017. and Director of Communications Tyler Pickner will take it from there!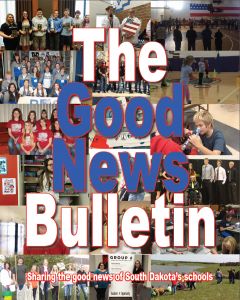 Over the past three years more than 90 districts have submitted nearly 200 stories of student achievement, community engagement, exemplary staff members, collaboration among districts and much more and we want to share your good news in our upcoming edition, which will be printed and distributed statewide in 2017.
Download and read the Good News Bulletin's first edition, second edition and third edition.
"There are so many stories that our districts have to be proud of and we want to share them through The Good News Bulletin," Pogany said.
Join us in sharing the good news from our South Dakota schools!