Delegates from 81 school districts voted to set the legislative direction of ASBSD at last month's Delegate Assembly. The voting school board members approved 11 standing positions and 30 resolutions.
Download the approved standing positions and resolutions by clicking on the links or visit the Publications and Forms page on the ASBSD website.
"As board members, you are here today because you are part of a powerful grassroots advocacy network that reaches our state policymakers and the constituents who have elected us to serve," ASBSD President Denise Lutkemeier said during her State of the Association address.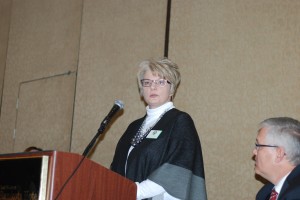 "School boards are the backbone of our education system and we must and will continue to make our voices heard. Thank you for your commitment to ASBSD and to providing the best education for the youth of South Dakota."
Delegate Assembly was highlighted by spirited discussion on potential change to the capital outlay levy, which could see its annual growth capped. Delegates approved a resolution (C9: Capital Outlay Compromise) that supports a potential compromise with elements that could contain benefits for school districts should levy growth be limited.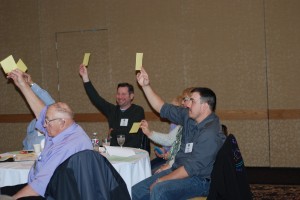 Read about the discussion on capital outlay from Delegate Assembly here.
Delegates also approved legislative priorities for ASBSD, as well. The priorities include:
A6 School Employee Compensation: ASBSD supports a long-term commitment with the legislature to enhance the ability to employ and retain quality personnel in public schools.
C1 School Funding: ASBSD supports funding appropriated by the State that meets expectations established in statute, administrative rule and accreditation standards.
C5 Use of Capital Outlay Funds: ASBSD supports the provisions in law that allow school districts to use capital outlay funds to pay for some insurance, energy and transportation costs.
C9 Capital Outlay Compromise: ASBSD supports an agreement on potential legislation that would freeze capital outlay levies at their 2014 level provided certain provisions may be included in the legislation.
C6 Other Revenue: ASBSD supports current state law that allows "other revenue" to be used exclusively by the school district in which the revenue is generated.
Everyone took a moment to honor former Executive Director Sam Tidball, who passed away a few days before the event.
"Sam was a wonderful and dedicated leader for ASBSD and education," Lutkemeier said of Mr. Tidball.