Matt Flett became the Director of Associated School Boards Protective Trust at the start of the 2015 fiscal year.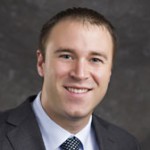 By Matt Flett
July 1 marked the first time in 25 years that Malcolm McKillop would not start the fiscal year as Director of the Protective Trust.
As Malcolm ventures into retirement the Associated School Boards of South Dakota, Associated School Boards Protective Trust, the membership and I want to thank Malcolm for his service to all the school districts in South Dakota the past 25 years. He was instrumental in developing and growing the Protective Trust.
I wanted to take time to introduce myself. I'm Matt Flett, Director of the Associated School Boards Protective Trust.
I'm a native of Scotland, South Dakota, a graduate of Scotland High School and an alum of Black Hills State University, where I earned Bachelors of Science Degree in Business Administration-Management.
My wife of nearly two-years, Jessica, is an Occupational Therapist. Both of my parents, Steve and Pat, continue to reside in Scotland, and my older brother, Will, lives in Mitchell with his wife and their three children, that bring a lot of joy to this Uncle's life.
Prior to joining ASBPT last July, I served as business manager at Northeast Educational Services Cooperative (NESC). During my time at NESC, I served as President of the Eastern Lakes Area Business Officials, South Dakota Association of Business Officials (SDASBO) audit committee, in addition to my regular SDASBO membership, and was a member of Association of School Business Officials International (ASBOI).
After coming aboard with ASBSD, I obtained my South Dakota Life/Health and Property/Casualty producer license. I continue to have an active Notary Public, and continue to hold a Business Official Certification from the South Dakota Department of Education.
This year, I was graciously invited by members of the Central Area Business Officials to become a member of the central region ASBO group, so I continue to stay active in SDASBO.
I have the philosophy of staying active with school administrators because they are in the trenches day in and day out. A school district's administration is a valuable resource for the Protective Trust and I hope to build relationships with each you and have you view me as an asset to your school district.
ASBPT is not an insurance company. That's my view and I want everyone to know that up front.
Why don't I consider us an insurance company?
The Protective Trust is a Joint Powers Authority (JPA) created by state statute and is comprised of three sub insurance funds: ASB Property/Liability, ASB Workers' Compensation, and South Dakota School District Benefits Fund (Health Insurance).
In a JPA is schools pool together resources to share in risk and ask the trust administrator to put together the most comprehensive and cost efficient program as possible.
This is why I want to grow my relationship with each of you; because you see issues or potential changes far in advance and can share ways we can enhance our program.
Finally, we will be publishing the Protective Trust newsletter monthly and they'll be emailed to all administrators that participate in at least one sub-fund.
The content of the newsletter will be benefits, property/liability and workers' compensation insurance articles geared mostly towards school districts.  If you participate in any fund, you will receive the newsletter with articles on all topics.
We are all in this together and are a team – that is our commitment to South Dakota School Districts. I look forward to being your Director and serving you and your district.