Four South Dakota legislators joined nearly 500 school board members and administrators at the 2014 ASBSD-SASD Convention for a panel discussion on the future of education in South Dakota.
To close Convention, Representatives Scott Munsterman and Dan Dryden and Senators Tim Rave and Billie Sutton had a frank conversation about the teacher shortage crisis and K-12 funding in general.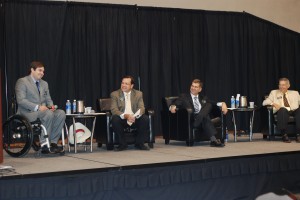 (From left: Sen. Sutton, Rep. Munsterman, Sen. Rave and Rep. Dryden share a laugh during the legislative panel at Convention.)
"We're not competitive with teacher pay in South Dakota," Sen. Billie Sutton said, adding that teacher salaries need to be addressed first in order to improve the situation.
The teacher shortage crisis has been at the forefront of discussion throughout the state since the release of a survey conducted by the School Administrators of South Dakota (SASD) revealed over 30 percent of teaching positions districts sought candidates for had not been filled at the end of May.
Open teaching positions for the following school year are typically occupied by that time.
How to solve the shortage still remains in the idea phase and legislators agreed everyone needed to contribute.
"It is about ideas," Sen. Rave said, "from the state down to the local level."
To see an increase in state funding for K-12, ideas need to be combined to formulate a plan according to Rep. Munsterman.
"We have to have a plan in place so that we can really sell (a funding increase)," Rep. Munsterman said.
Legislators provided districts with a 3.35 percent increase in funding for the upcoming school year; it was the first increase above three percent since 2008.
How much of an increase districts will receive next year is murky as SASD Executive Director Rob Monson noted during the panel that schools are "holding our breath" with CPI-W projections coming in at under 1%. State law mandates that K-12 funding receive an increase of 3% or the change in CPI-W, whichever is less.
"We have to continue to reevaluate those models of (school) funding," Sen. Rave said. He added that the discussion on school funding needs to begin earlier in session because the state's budget is relatively in place for the next year and legislators have a small percentage of dollars that can be shifted.
"Maybe it's time we take a look at what makes up the (funding) pie," Sen. Sutton said. "It is a challenge to come up with enough dollars."
Sen. Sutton also noted that he believes local taxpayers have taken on more responsibility in school funding. In 2014, more than 44 percent of South Dakota's public school districts had an opt-out in place.
"I think the state needs to come to the table & shoulder a little more," Sen. Sutton said.
Rep. Dryden pointed out that school reserves have been a sticking point for some in the legislature in the school funding conversation. In 2013, school district fund balances for all public schools in South Dakota totaled over $240 million, which is 30 percent of the total expenditures among districts.
"I think it's a detriment," Rep. Dryden said.
The legislative planning committee – chaired by Rep. Munsterman and which Sen. Sutton is a member of – charged with completing a long-term study of K-12 education and its funding components is expected to discuss school reserves at their next meeting on Aug. 25.
Each legislator on the panel said the conversation around where K-12 education is headed will continue and they were excited to be a part of it.
"I'm excited for the opportunities," Sen. Rave said. "Let's sit down and figure out some solutions."