ASBSD's gavel was passed at the August meeting of the Board of Directors.
The passing of the gavel signified the start of Denise Lutkemeier's term as ASBSD President. A member of the ASBSD Board of Directors since 2008, Lutkemeier will lead the 18-member Board of Directors for her one year term.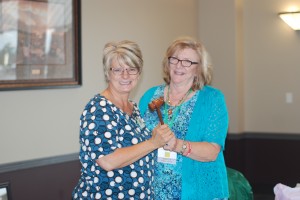 (Denise and Pam pose with the gavel during the August ASBSD Board of Directors meeting.)
"Denise is a great leader," ASBSD Executive Director Wade Pogany said. "Under her guidance ASBSD will continue to flourish as an advocate for students, school boards and school districts."
"We're lucky to have her."
Denise, currently serving as the President of the Wilmot School Board, succeeded Colome School Board Member Pam Haukaas, who assumes the role of Past President.
"Pam served ASBSD with honor," Pogany said. "She took great pride in keeping her fellow board members across South Dakota up-to-date on many different education issues.
"We're thankful for her service."
Pam had served as ASBSD's President for 18-months as the Association ushered in a new timeline for Board of Director elections, which saw the ASBSD President begin their term in August instead of February – previously utilized as the beginning of the term.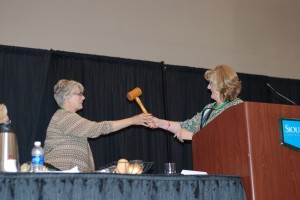 (The gavel was passed from Pam to Denise during the Awards Luncheon at Convention.)
Pogany said the excellence in leadership ASBSD has been privileged to have will certainly continue during Denise's term.
"School board members have a great example to learn from and follow in Denise," Pogany said. "She's as dedicated as anyone to ensuring the students of South Dakota receive a great education."