Beginning this week ASBSD's online policy manual will have a new home.
Your district will still have free access to our more than 450 sample school policies, but the website will move here, starting October 1st.
Be sure to check with your district's superintendent for login and password information for the new online policy manual site – at https://eboard.eboardsolutions.com/sd/asbsdpolicy.
Along with the update in our online policy manual site, comes a new, subscription based feature that will streamline your school board policy process. Our new online policy service will provide your district with:
Organization

 of your district's policy book electronically with a personalized website hosted by ASBSD & eBOARDsolutions,
Administrators and school board members can review your district's policies 

at any time

 through your district's policy page,
Ten hours of in‐

depth analysis and review

 of your policies, written amendments to current policies and drafting of new policies (available to new subscribers for one year),
Current policy 

access and edit

 capabilities and add new policies in real time as your school board is amending and adopting,
The ability to search policies of other school websites who are members of ASBSD's online school board policy community hosted by ASBSD/eBoardsolutions.
Six school districts are currently members of ASBSD's online school board policy community:  Alcester-Hudson, Centerville, Colome Consoldiated, Miller, Tripp-Delmont and Wilmot.
"It has helped us review our policy book with much more accuracy and efficiency," Miller Superintendent Dan Trefz said of the online policy services system.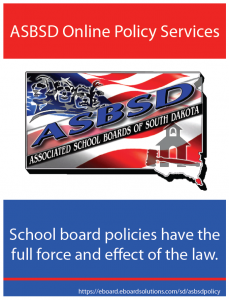 For additional information on our new online policy services, download the ASBSD Online Policy Services brochure here.
If you would like additional information on how our new online policy services can streamline your district's school board policy process, please contact Director of Policy and Legal Services Gerry Kaufman at gkaufman@asbsd.org or 605-773-2513.