Whether a veteran or newcomer to the role of school board president, you're going to face trials and triumphs this school year.
To help you deal with those situations, ASBSD invites you to join us at the 2014 President's Retreat.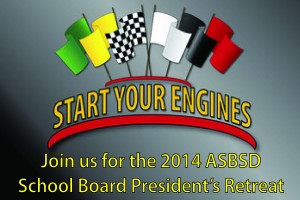 This year's retreat will be held in Pierre at the King's Inn beginning in the afternoon of Friday, Aug. 22 running through the afternoon of Saturday, Aug. 23. Download the tentative agenda here.
There is no cost to attend the event, but it is limited to the first 50 registrants.
Hear what attendees had to say about last year's Retreat.
The retreat will help you learn in what circumstances you should step on the gas, hit the breaks or shift gears during your upcoming year as school board president.
Check out all the fun that was had at last year's Retreat.
Ask your district's business manager to register you for the event soon
If you have questions, please contact Leadership Development Director Dr. Randall Royer at rroyer@asbsd.org or at 605-773-2504.