The premier learning event for school board members and administrators drew nearly 500 attendees to the Sioux Falls Convention Center to discuss advocacy, student achievement, legislative issues and much more.
2014's ASBSD-SASD Convention set the stage for the upcoming school year for district leaders as they came together for the two-day event, which featured a keynote speech from NSBA Executive Director Tom Gentzel, a legislative panel discussion on the future of education in South Dakota, a meet and greet discussion with U.S. Sen. Tim Johnson and 40 breakout sessions covering a variety of K-12 topics. Submitted presentations from the breakout sessions can be downloaded from the Publications and Forms page.
Gentzel kicked off Convention on Thursday morning sharing NSBA's new campaign message – Stand Up 4 Public Schools – and had a discussion with ASBSD Executive Director Wade Pogany.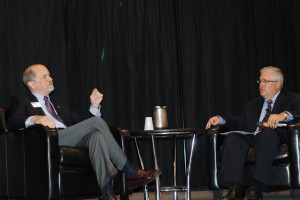 (Gentzel (left) and Pogany kicked of Convention with a discussion on Thursday.)
"It was an honor to have Tom join us at Convention," Pogany said. "He shared his national level advocacy message in 'Standing Up' for public schools and school boards having the autonomy to make decisions that are best for their local districts and showed how adaptable it is to our state."
Gentzel was joined at Convention by NSBA President Anne Byrne of New York and NSBA Western Region Director and Mitchell School Board Member Neil Putnam. The trio shared information about NSBA's advocacy efforts and relationship with the state associations, the Center for Public Education, the Stand Up 4 Public Schools campaign and the role local school board members have with NSBA.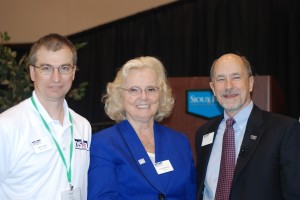 (From left: Putnam, Byrne and Gentzel pose for a photo.)
Byrne also spoke during the Awards Banquet Luncheon, urging school boards to celebrate their success.
"We have to tell our own stories about the great things that are going on in our schools," Byrne said.
The luncheon also provided ASBSD and SASD the chance to recognize the exceptional board members, administrators and community members who have enhanced K-12 education.
Read about ASBSD award winners here.
This year's Convention also provided a unique opportunity for board members and administrators to meet and discuss education issues with U.S. Senator Tim Johnson.
"It was a fantastic addition to Convention for Sen. Johnson to take the time to attend and talk with our state's education leaders," Pogany said. "We're grateful to have had the chance to welcome Sen. Johnson to our event."
Sen. Johnson was joined by Putnam, Vermillion Superintendent Mark Froke and Rapid City Superintendent Tim Mitchell on the panel that discussed national education issues.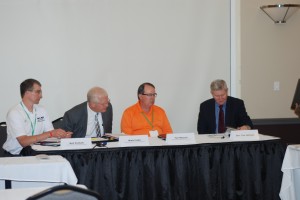 (From left: Putnam, Froke, Mitchell and Johnson discuss education issues.)
Breakout sessions on Thursday covered many different education issues at the state level, including education funding in the state. S.D. Rep. Ray Ring covered education funding in South Dakota over time and compared to other states by overall funding levels, federal, state and local sources, opt-outs, benefits and salaries and funding for instruction and support.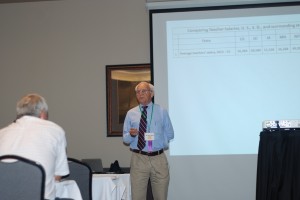 (S.D. Rep. Ray Ring (center) presents during his breakout session at Convention.)
Thursday's events were capped off by a new attraction to Convention: the $500 drawing of a winner who found the secret vendor in the Convention's exhibit hall.
Read about the Secret Vendor drawing here.
Many of the Convention attendees gathered around for the drawing at the end of the day, which saw Yankton School District Director of Student Services Kathy Wagner take home the prize.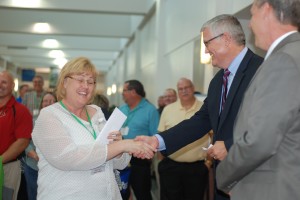 (Wagner (left) is congratulated by Pogany (center) and SASD Executive Director Rob Monson (right).)
Convention concluded on Friday with two hours of breakout sessions, including a standing room only session presented by Harrisburg Superintendent Jim Holbeck on the teacher pay problems, and panel discussion on the future of education in South Dakota with four state legislators.
Representatives Scott Munsterman and Dan Dryden and Senators Tim Rave and Billie Sutton had a frank conversation about the teacher shortage crisis and K-12 funding in general.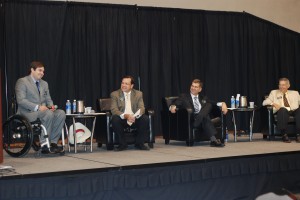 (Legislators on the panel share a laugh.)
Read about the panel discussion here.
"That we were able to have four prominent legislators take the time to join us at Convention says a lot about the influence our district's education leaders hold," Pogany said about the panel. "Our unified voice is being heard."
As districts continue prep work for the upcoming school year, Pogany believes the Convention is a great way to kick start the year.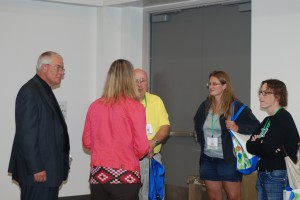 (Board members from five different school districts congregate at Convention to talk shop.)
"We hope Convention not only to informs our education leaders about a variety of education issues, but also helps get them excited for the school year," Pogany said.
"We're grateful for everyone's attendance and contribution to Convention and it's our goal to continue to make it a premier education experience for board members and administrators."
Note: if you lost a Thermos coffee mug, reading glasses or a hat, please contact ASBSD Executive Secretary Katie Mitchell-Boe at Katie@asbsd.org to retrieve them.