Since the start of 2017 revenue reports have not been rosy.
That tepid trend continued during the April meeting of the legislature's Executive Board. S.D. Legislative Research Council Fiscal Analyst Jeff Mehlhaff informed board members the state's general fund revenue is down $3 million from "where we anticipated being" based on the restructured revenue estimates adopted by the legislature in February for Fiscal Year 2017.
A main culprit of the lower than expected collections continues to be the state's sales tax.
Mehlhaff said sales tax collection came in $4.7 million under what was expected in March, which marked the eighth time in nine months that sales tax failed to outpace the previous year's sales tax growth. Note: that figure is without the half-penny increase included.
"We've had negative year over year growth for all but one month in (fiscal year) 2017," Mehlhaff said.
The picture was painted bleaker when Mehlhaff noted that sales tax collections needed to grow by 13.4 percent – even with the half-penny included – before the end of the fiscal year in order for the revised revenue projections to be met.
If the growth needed is not met, Mehlhaff said sales tax could come in between $5-10 million short.
"This is a problem and I just see it getting bigger and bigger and bigger," Speaker of the House Rep. Mark Mickelson said.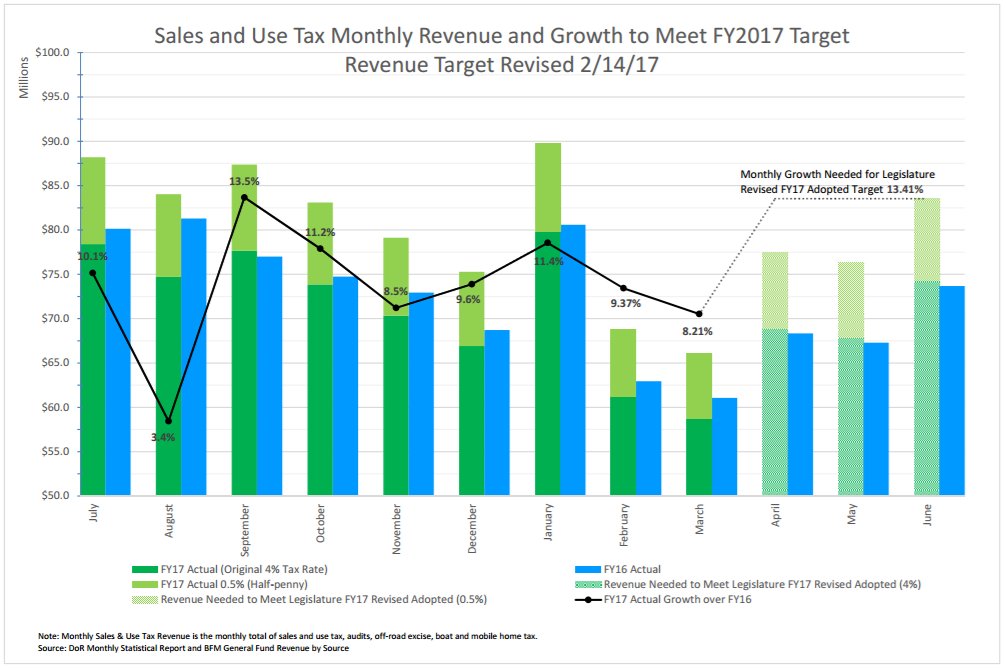 With total ongoing receipts currently $9.2 million short of projections through March for FY17, schools must be vigilant of what could come.
"The situation is at a critical point," ASBSD Executive Director Wade Pogany said. "We've known revenue collection is underperforming since the start of the year and if it fails to meet the targets then future funding for schools may be in jeopardy."
"This affects everyone in public education and we need to stay vigilant of the situation as it will have major ramifications on our financial future."
The state of the state's revenue collection has legislators concerned about what's to come now and later.
"It is just extremely concerning," Sen. Jeff Partridge said. "We've got some major issues just for (FY) 17 let alone going into (FY) 18."
For updates on the legislative interim, check the ASBSD Blog and Twitter feed.