South Dakota students exceeded predictions in their first year taking a new state assessment.
Results released by the S.D. Department of Education from the Smarter Balanced assessment, given to students last spring in English language arts and math, were released recently and proved better than expected, with more students reaching Levels 3 – considered the benchmark for proficiency – and 4 in both subject areas.
"Our public schools have always been dedicated to providing the best possible education for our students and in exceeding expectations in the first year of what's been a challenging transition to a new state assessment, they've proven how hard they work," ASBSD Executive Director Wade Pogany said.
Across all grade levels tested (grades 3-8 and 11), the percent of students at or above Level 3 in English language arts was 49.5 percent. In math, the percent of students in all grade levels at or above Level 3 was 41.3 percent.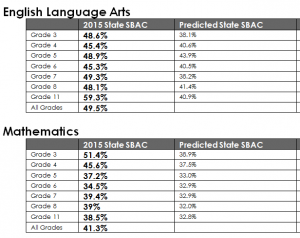 The assessment results are one piece of data included in the 2015 Report Card, which can be accessed here, and is one part of the School Performance Index, in which schools are classified as Exemplary, Status, Progressing, Focus or Priority. Those in the Priority and Focus categories will receive assistance from the state to address performance issues.
"There's room for growth, but this is a good starting point for the new assessment," Pogany said. "We must commend our students, schools and state for their commitment to learning and teaching."