South Dakota's Open Meetings Law Brochure has been updated and recently published.
ASBSD assisted in the preparation of the brochure, which is a guide to South Dakota's Open Meetings Law, and encourages board members and administrators to review it to stay up-to-date on the all-important statutes.
Download the Open Meetings Law Brochure here.
"This is a valuable guide for education leaders," ASBSD Executive Director Wade Pogany said.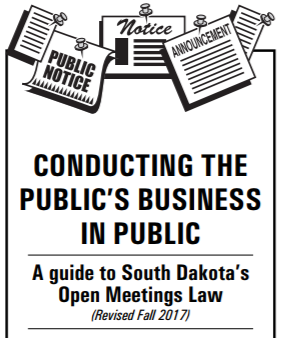 "The brochure's a handy and very accessible tool to answer questions you may have about what's required to comply with our state's open meetings law."
The brochure includes descriptions of pertinent open meeting statutes and Q and A's on open meeting topics such as email discussions, records that must be made available, recording of public meetings, executive session procedure and much more.
The brochure can be found on ASBSD's Publications & Forms page under the For Board Members heading and updates on open meetings law and other topics can be found on the ASBSD Blog and Twitter feed.