It is extremely important for school districts and school boards to have effective school board policies that are consistent with state and federal law. School board policies are not merely guidelines or suggestions.
"Policies of a school district, especially those negotiated with bargaining representatives for the protection of teachers, have the full force and effect of law, and legally bind the school district."   Wessington Springs Ed. Assoc. v. Wessington springs Sch. Dist., 467 N.W. 2d 101 (S.D. 1991).
ASBSD's comprehensive line of Policy Services range from basic services included with ASBSD membership to fee and subscription based custom policy manual development.
ASBSD Policy Services Website is a member-only service and requires a User ID and Password assigned by ASBSD to view the sample policies.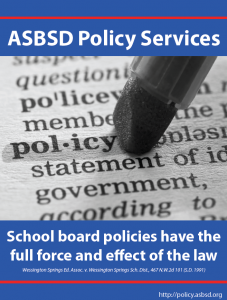 Download the ASBSD Policy Services brochure here.
INCLUDED WITH ASBSD MEMBERSHIP
ASBSD Sample Policies and Exhibits:
Policy Alert:

ASBSD's comprehensive line of Policy Services includes timely and relevant information through ASBSD Policy Alert, which is your school's source for the latest updates and information on

school district policies

.
New and Amended Policies Following Legislative Session:
ASBSD FEE BASED POLICY SERVICES:  
Policy review, analysis, revision and drafting of school district policies;
Collective Bargaining Agreement review and analysis;
Employee and Student Handbook review, analysis and revision;
Policy Services Cost Information can be found on the

Policy Services website

.
ASBSD SUBSCRIPTION BASED ONLINE POLICY SERVICES PACKAGE:
Along with the current ASBSD sample school policies, consultation to policy questions and Policy Alerts at no cost to member districts is a subscription based package that will streamline your school board policy process. Our online policy service can provide your district with:
Personalized website hosted by ASBSD and Simbli (a component of the Georgia School Board Association);
Ability to review your Districts policies at any time through your district's policy page;

In-depth analysis, review, revision and drafting

of your School Districts policies;
Access, edit and update your current policies and add new policies in real time;
Ability to search policies of other school websites hosted by ASBSD and Simbli.
"The ASBSD Online Policy Service streamlines the review process by organizing and warehousing district policy that is reviewed monthly. It provides a resource that is readily accessible and easy to use." Parkston Superintendent Pat Mikkonen said.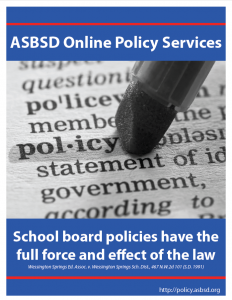 Download the ASBSD Online Policy Services brochure here.
"The school board and administration wanted to revise existing policy to reflect current issues and legislation. Having the capability to edit policy online, in real time, will only expedite the process and make it seamless." Deuel Superintendent Chad Schiernbeck said.
ASBSD Subscription Based Online Policy Services Package is available for ASBSD Member schools. There is a one-time set up fee of $1,000, which includes online training for use of software and ten hours of in‐depth analysis and review of your policies, written amendments to current policies and drafting of new policies. There is an annual hosting fee which is based on your district's enrollment:
500 or fewer — $1,000
501 to 1,000 — $1,600
1,001 to 2,500 — $2,300
2,501 to 5,000 — $2,900
5,001 to 7,500 — $3,500
7,501 to 25,000 — $4,100
25,001 to 50,000 — $4,800
More than 50,000 — $5,400
"The ASBSD Online Policy Services were a huge help to the Elk Point-Jefferson school district in doing our policy manual review. We were able to look at our current approved polices and compare them to SDCL and Administrative Rule. In the end, ASBSD Policy Services not only saved us time, but helped provide a resource to the district that will be used time and time again." Elk Point-Jefferson Superintendent Philip Schonebaum
Thirty-eight school districts are currently members of ASBSD's online school board policy community: Alcester-Hudson, Bennett County,  Burke, Castlewood, Centerville, De Smet, Deuel, Dupree, Eagle Butte, Elk Point-Jefferson, Elkton, Frederick Area, Gregory, Haakon, Howard, Iroquois, Jones County, Kimball, Lake Preston, Lead-Deadwood, Leola, Lyman, Marion, McIntosh, Miller, Northwestern Area, Parkston, Redfield, Scotland, Sisseton, Smee, Stanley County, Summit, Tripp-Delmont, Wagner Community, Waubay, White River and Willow Lake.

"ASBSD Online Policy Services makes it easy to ensure the policies that govern your districts are current and up-to-date. I would highly recommend this service to any superintendent." Waubay Superintendent Scott Lepke said.
If you would like additional information on how our online policy services can streamline your district's school board policy process, please contact Director of Policy and Legal Services Jessica Filler at jfiller@asbsd.org or 605-773-2513.