Friday's House Education committee meeting wrapped up a good week for K-12 funding.
With the committee's passage (11-4) of House Bill 1003, which would set the annual index factor increase for education funding at a minimum of two percent, on Friday accompanied by referral of House Bill 1004, which would set the per-student allocation at $4,805, on Wednesday, momentum for improving K-12 funding is building. ASBSD supports both bills.
On Friday, a parade of proponents testified in favor HB 1003.
ASBSD Executive Director Wade Pogany told committee members the concern he hears most from school board members is the inability to plan for the future of their districts.
"We just can't entertain the goal of doing any long-term planning," Pogany said.
As many proponents noted, the legislature has provided a two percent increase in funding to schools in eight of the last 10 fiscal years, with only the freeze and 8.6 percent cut being the outliers.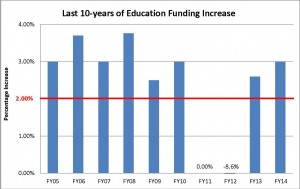 Jim Terwilliger of the S.D. Bureau of Finance and Management testified in opposition of the bill, saying it "isn't needed" because the state has provided the two percent increase regularly.
"It'll tie your hands a little bit," Terwilliger said to committee members in reference to providing a stable percentage increase.
Rep. Jacqueline Sly, who serves as the Chair of the House Education committee, served as the Chair of the legislative interim committee that studied school funding last year and heard firsthand the struggles districts had in planning.
"I think what is being asked is more assurance (for) school districts," Rep. Sly testified. "As districts are planning their budgets… that (two percent guarantee) would provide more predictability."
Rep. Sly was joined in testifying in support of the bill by fellow funding study committee members Senators Billie Sutton and Larry Tidemann.
"We constantly heard the need for stability (in funding) from our administrators and school board members," Sen. Sutton said. "This is just one way to (provide stability)."
Sen. Tidemann echoed Sen. Sutton's comment regarding the testimony they heard during the interim study.
"The school board members and administrators all said how do you plan if you have no concept or idea of where your funds are going to come from." he said. "This (HB 1003) puts a floor on (the increase)."
Pogany followed up on the points of each legislator.
"If we knew two percent was something we could count on… it would provide some stability," he said.
HB 1003 was referred by the House to the House Appropriations committee.
For updates on the bill, check the ASBSD Blog, as well as our Bill Tracker page.