Changes to school meal programs are in the works at the federal level.
Secretary of Agriculture Sonny Perdue announced last week that the U.S. Department of Agriculture will provide greater flexibility in nutrition requirements for school meal programs.
"This announcement is the result of years of feedback from students, schools, and food service experts about the challenges they are facing in meeting the final regulations for school meals," Perdue said in a statement.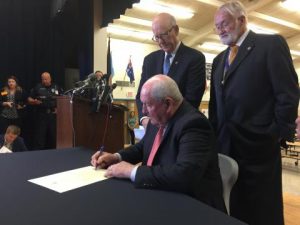 Perdue signed a proclamation which begins the process of restoring local control of guidelines on whole grains, sodium and milk.
Specific flexibilities announced in the USDA statement include:
Whole grains:

Schools are experiencing challenges in finding the full range of products they need and that their students enjoy in whole grain-rich form. They need continued flexibility in meeting the whole grain requirements for school meals;
USDA will allow states to grant exemptions to schools experiencing hardship in serving 100 percent of grain products as whole-grain rich for School Year 2017-2018.  USDA will take all necessary regulatory actions to implement a long-term solution.

Sodium:

For School Years 2017-2018 through 2020, schools will not be required to meet Sodium Target 2. Instead, schools that meet Sodium Target 1 will be considered compliant;
The time frame will provide schools and the school nutrition industry with the certainty and predictability they need to make appropriate plans for creating foods with the appropriate amount of sodium. During this period, USDA will take all necessary regulatory actions to implement a long-term solution;
USDA will dedicate significant resources to providing technical assistance to schools as they continue to develop menus that are low in sodium and appealing to students.

Milk:

Milk is a key component of school meals, meaning schools must have more options for students who select milk as part of their lunch or breakfast;
Perdue will direct USDA to begin the regulatory process for schools to serve 1 percent flavored milk through the school meals programs. USDA will seek to publish an interim rule as soon as possible to effect the change in milk policy.
ASBSD's resolution G2. School Nutrition supports flexibility in federal law related to school nutrition requirements. The Association will continue to monitor updates made to the nutrition requirements.