For everyone who understands and appreciates the value of public education, the National School Boards Association is providing an excellent platform to demonstrate their support for public education.
NSBA's The Stand Up 4 Public Schools campaign has been refreshed and the new strategic concept is aimed at telling the full and rich story of public schools.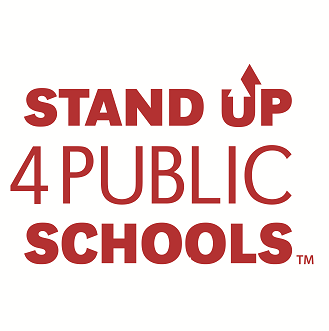 The campaign highlights the creative, innovative, and extraordinary ways public schools are helping students prepare for their future, enhancing the quality of life in their communities and helping generate future prosperity.
The Stand Up campaign's new focus and redesigned website (www.standup4publicschools.org) enables NSBA to tell the story through first person accounts and by showcasing programs and people doing great work.
A key feature within the site is the short movie, No Ordinary Day, which brings the strategy and story to life in a compelling way.
ASBSD encourages you to go to the website to highlight programs and people deserving recognition. You can provide a little information on the Contact Us page on the website and NSBA staff will follow up with the appropriate people so their story can be featured.
It's imperative we do a better job of telling public education's story so the public and policymakers understand that every single day something great is happening in public schools.
"School board members play such an important role in public education and NSBA is the national voice for all of our work," ASBSD Executive Director Wade Pogany said.
"This campaign highlights all the great things about public education and we encourage you to take a look at its highlights and what you can do to."