The ASBSD Board ushered in a new year at their August meeting, which was held just before the 2016 ASBSD-SASD Convention.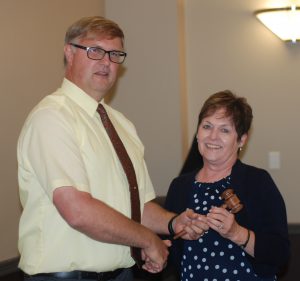 Anita Peterson, Haakon School Board Member, took the reigns as president with the passing of the gavel from Eric Stroeder, Mobridge-Pollock School Board President. Read about it here.
Along with the passing of the gavel came Thoelke, Sioux Falls School Board President, ascending to the role of ASBSD 1st Vice President.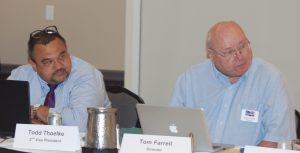 Thoelke has been a member of the ASBSD Board since 2014 and has served on the ASBSD Branding and Policy & Resolutions Committees. He has been a member of his local board since 2012 and, in addition to being the current Board President, previously completed two terms as Vice President and has served on the Insurance, Policy Review and Sioux Falls Sports Authority committees.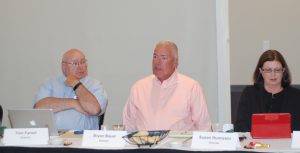 ASBSD Board members also elected Madison Central School Board President Tom Farrell to the role of ASBSD 2nd Vice President. Read about it here.

Four ASBSD Board veterans began serving their latest term as a Director at the most recent meeting.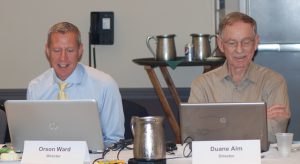 Yankton Board Member Kathy Greeneway, Aberdeen Board Member Duane Alm, Colome Consolidated Board President Pam Haukaas and Howard School Board President Rick Olson returned to the board after running unopposed for their seats. Peterson also began her latest term on the board.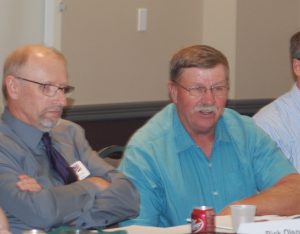 The Board of Directors also: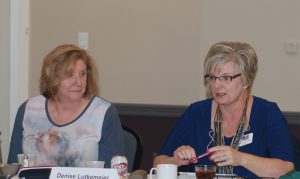 Approved recommended changes to legislative resolutions (download here) and standing positions (download here) from the ASBSD Policy and Resolutions Committee;
Approved a new ASBSD Policy, which charges the ASBSD Executive Committee to review ASBSD region and enrollment categories every three years, beginning November, 2016. Read the policy here;
Approved future meeting dates for the ASBSD Board for November 17-18, 2016, February 13, 2017 and August 9, 2017. The April, 2017, meeting date will be set at a later date;
Met with NSBA President Miranda Beard, who attended and presented at Convention. Read about it here;
Reviewed the latest information from the ASBSD Member Survey, which, if you have not completed, you can learn more about it here;
Listened to a presentation from SDHEFA Director Don Templeton on the South Dakota State Aid Pledge Program. Read about it here.