The annual ASBSD President's "passing of the gavel" accompanied the August Board of Directors meeting agenda.
Eric Stroeder, Mobridge-Pollock School Board President, finished what he referred to as "a whirlwind year" as ASBSD President, passing the gavel to Haakon School Board Member Anita Peterson.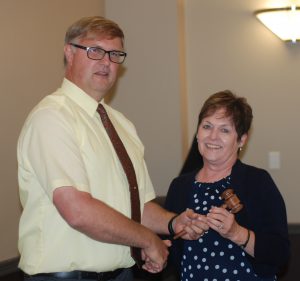 "It's been a great thrill to be ASBSD President. It's a great organization," Stroeder told his fellow directors. "I'm glad you gave me the chance to do this."
A member of the ASBSD Board since 2012, Stroeder now assumes the role as Past President and will continue to represent the Central Region's 266-699 enrollment category.
"I'm so grateful to Eric," ASBSD Executive Director Wade Pogany said. "We're at a unique time in K-12 education history and I really have to give a big thank you and also tremendous kudos to Eric for taking on his role with the Blue Ribbon Task Force and in advocating for public education."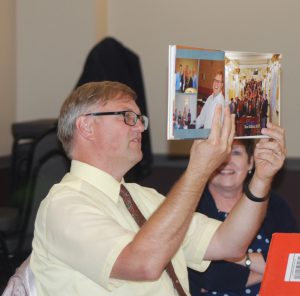 Peterson, who noted Stroeder "will be a hard act to follow," takes charge of the 18-member Board of Directors, which she has sat on – representing the Association's Western Region at the 266-669 enrollment category – since 2008.
"I am so thankful for the opportunity to lead this Association," Peterson said. "ASBSD will continue to work hard for all of the children of South Dakota."
Peterson has been a member of the Haakon School Board for 24 years during which time she has served five terms as Vice Chairman and as a member of a multitude of school board committees.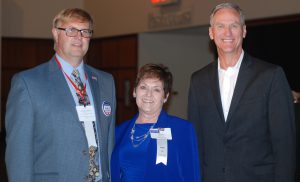 In addition to her local school board work, Peterson has served as an ASBSD Delegate, completed multiple training opportunities and attended numerous ASBSD events.
"Anita has a vast knowledge of public education and school board matters, both locally and statewide," ASBSD Executive Director Wade Pogany said.
"ASBSD will continue to thrive under her direction and we're so appreciative for commitment to lead."