ASBSD's Board of Directors began the 2021-22 year by discussing the board's executive committee, welcoming two new members and welcoming back two directors, and more.
The ASBSD Board of Directors met the day prior to the 2021 ASBSD-SASD Convention and decided to maintain the current Executive Committee for the board in order to allow them to experience the leadership and development opportunities they missed out on over the past year due to COVID.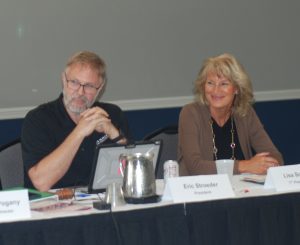 ASBSD President Eric Stroeder, First Vice President Lisa Snedeker and Second Vice President Louann Krogman will remain in their current positions for the 2021-22 year.
"We are going to continue on," ASBSD Executive Director Wade Pogany said. "Kudos to them for agreeing to stay in these roles for another year."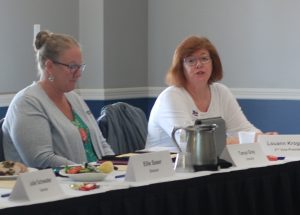 Directors also welcomed two new members to the board.
Sioux Falls School Board Member Nan Baker and Waverly School Board Member Jamie Lindner joined the Board of Directors, following their appointments. Baker will represent Sioux Falls from the Southeast Region's 10,000 & Above enrollment category, while Lindner will represent the Northeast Region's 265 & Under enrollment category.
Baker start on the Sioux Falls School Board in 2019 and sits on the budget review committee and Southeast Tech council, among others. She will serve as the board's Delegate at ASBSD's Delegate Assembly and prior to joining the board, served as Co-Chair of the district's facilities task force.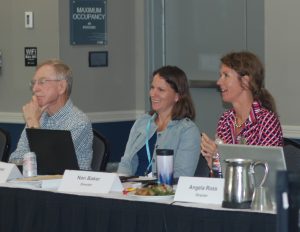 The 2021-22 school year marks Lindner's third year on the Waverly School Board during which time she has served as her board's Delegate for ASBSD's Delegate assembly, as well as attended multiple board development events.
Along with the two new Directors starting their terms, two more continued their tenures on the ASBSD Board.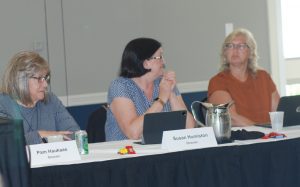 Edgemont School Board VP Susan Humiston and Madison Central School Board President Tom Farrell were re-elected to the board and began their four-year terms at the August meeting.
Humiston, representing the Western Region's 265 & Under enrollment category, has served more than 20 years on ASBSD's Board, including two stints as President of ASBSD, and 30 years on her local board.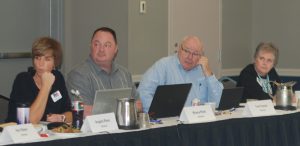 Representing the Southeast Region's 700-1,399 enrollment category, Farrell has served on the ASBSD Board since 2014, including a term as President in 2018-19, and is currently serving his 12th year on his local board.
In addition, the Board:
Approved drafts of the 2022 legislative Resolutions and Standing Positions, which will be discussed and voted on by Association members on Friday, November 19 at ASBSD's Delegate Assembly.

Additional information will be provided on the proposals and event soon

;
Heard and approved the financial report;
Discussed the Telemental Health in Schools partnership between the Department of Education and Department of Social Services. Click here to learn more about the program.