ASBSD honored school board members, former administrators and public school advocates and community representatives who went above and beyond for their local school districts.
Mobridge-Pollock School Board President and ASBSD President Eric Stroeder earned the 2021 Associated School Boards of South Dakota's Outstanding School Board Member of the Year honor, which is presented to a board member that embodies the spirit of school board leadership in recognition of his or her dedication to the advancement of student learning at the local level.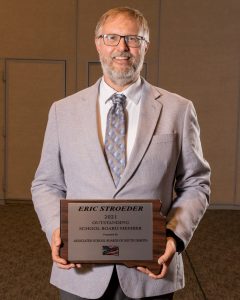 Stroeder has served on the Mobridge school board for 11 years and as President for five years, has served as President of ASBSD for two terms and has been on the Board of Directors for nine years. In addition, he was a member of the Blue Ribbon Task Force and currently on the School Finance Accountability Board.
"Eric understands the challenges of educating young people, but through his engagement in his community and the state and investment in public education he has developed a wonderful vision of what a great public school system looks like," ASBSD Executive Director Wade Pogany said.
"He is the type of board member all communities want to have, and we're thrilled to be able to recognize his exceptional work."
This year, two individuals – both of Huron – were presented ASBSD's School Bell Award, which honors individuals or organizations who have served South Dakota public education in an exemplary fashion.
Retired Superintendent Terry Nebelsick and School Law Attorney Gerry Kaufman earned the honor.
Nebelsick recently retired following 27 years of service as Principal and Superintendent in the Huron School District and during that time served on the Juvenile Justice Committee, the Teacher Compensation Review Board and is currently a member of Board of Education Standards.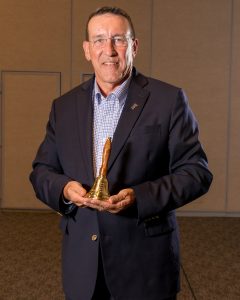 "Terry's passion for educating children and care for their wellbeing has always been unconditional. Throughout his career he has shown a servant's heart for students, staff and community members," Pogany said. "For his dedicated years of service to his local district and the state, we're thankful to have the opportunity to honor him."
Kaufman has respectfully represented schools in all facets of school law for three decades representing multiple school districts as school attorney and seven years of service of as the Director of Policy and Legal Services for ASBSD sharing an in-depth knowledge of school law and willingness to do whatever it takes to assist school districts in legal matters.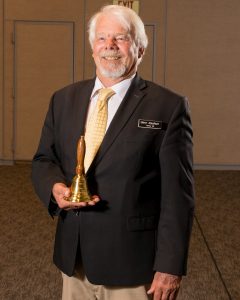 "Gerry possesses an amazing work ethic and commitment to public education and throughout his career he's shown a dedication to doing what's right for schools," Pogany said. "We're grateful to Gerry for his years of service to and all he has done, not only at ASBSD, but for public education across South Dakota."
The Community Service Award, which is presented to individuals or groups serving their local school district in exemplary fashion, was given to two individuals.
Former Aberdeen Athletic Director Gene Brownell received the award after serving the district for more than four decades, including 25 as Athletic Director.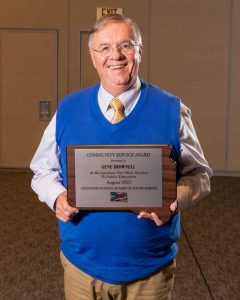 Brownell continues his dedication to the district and its students through his diligent work to promote all aspects of the district's activities and commitment to raising funds for the programs, as well as working with Sanford Health to provide trainers and services to students year-round and with the Aberdeen Public School Foundation in finding donors and increasing scholarships for students.
"Gene has shown a clear dedication to the Aberdeen School District through his decades of service on staff and his efforts to support students and programs after that," Pogany said. "We're excited to recognize his contributions."
The Parker Pharmacy and Chris Poncelet were presented the award for their dedication to the Parker School District through their service to and support of the school and the students.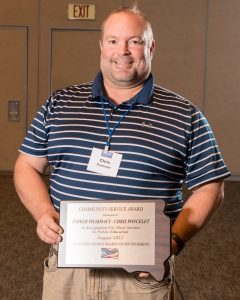 Poncelet volunteers as a junior achievement instructor, assistant director of the all-school play and baseball coach, while also donating funds for the positive behavior intervention program and homecoming and facilitating collaboration between the school district and city for the district's addition and renovation project.
"Chris and the Parker Pharmacy display a clear commitment to Parker's students and school," ASBSD Executive Director Wade Pogany said. "The service goes above and beyond and we're happy to recognize their efforts."