The 2014 legislative session begins on Tuesday, Jan. 14 and ASBSD has you covered for coverage of the daily occurrences in the legislature.
This year, we have three main tools we'd like to bring your attention to:
The ASBSD Bill Tracker system has been revamped this year to give you the easiest access to legislation related to K-12 education. To access the Bill Tracker page, click the "Bill Tracker" link at the top of ASBSD's homepage.
Bill Tracker provides the bill number (hyperlinked to its webpage on the South Dakota legislative research council website), a brief summary of the bill, ASBSD's position on the bill and its current location in the legislature.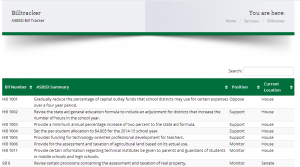 By clicking on any of the headers – Bill Number, ASBSD Summary, Position or Current Location – you can sort the bills listed. For example, if you want to know which bills ASBSD is supporting, monitoring or opposing, click the "Position" header.
You may want to bookmark the Bill Tracker page, as it will be updated daily as bills are passed or killed and move from committees to the Senate or House floor.
Bill Tracker provides the summary of session, while the Blog provides the details of it.
Updated daily while the legislature is in session, the Blog will read like a newspaper story with accounts and recaps of committee meetings, floor votes and any other legislative action related to K-12 education.
You can access the Blog by clicking the link found at the top of the homepage. The most recent blog posts can be found in the middle of the home page under the "Latest News" heading.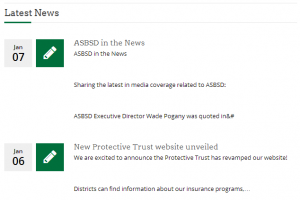 A new addition to the list of ASBSD legislative tools is the "2014 Legislative Session Documents" list, which can be found on the Publication and Forms page.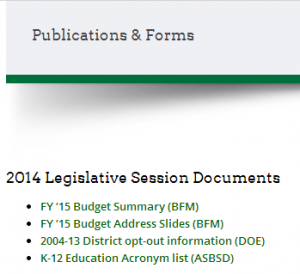 The group will consist of a variety of documents pulled from ASBSD, Department of Education (DOE) and Bureau of Finance and Management (BFM) resources, which you can reference throughout session.
Each tool is designed to help you stay up-to-date on the latest from legislative session, as well as reference when you're advocating to your area legislators or discussing issues with your fellow board members or people from your community.
If you have questions about the information or how to access the resources, contact Tyler at tpickner@asbsd.org or at 605-773-8382 or 605-881-3791.
The tools will be updated regularly so be sure to visit www.asbsd.org often.