Gov. Kristi Noem touched on a few K-12 topics during her inaugural State of the State address on Tuesday (1/8).
Among those topics was a proposed requirement that every high school graduate be able to pass the United States Citizenship exam.
"Civics needs to reemerge," Gov. Noem said during her address, adding that students would "display the basic knowledge" of the United States' civics system.
A similar proposal was introduced by Sen. Phil Jensen in 2015 in the form of Senate Bill 164, which called for students to take a civics test to demonstrate knowledge of United States history and government.
Sen. Jensen eventually withdrew the bill, which called for, "A student may take the test at any time after enrolling in the seventh grade and may repeat the test as often as necessary to pass it. The requirement to pass this civics test applies to each student who is enrolled in a public school, enrolled in a nonpublic school, receiving alternative instruction…or 3 pursuing a general educational development (GED) certificate."
Whether or not the latest proposal includes similar ideas remains to be seen until the bill is officially introduced.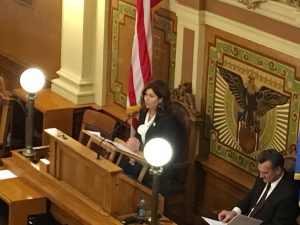 "It's an intriguing proposal from Gov. Noem," ASBSD Executive Director Wade Pogany said. "We support the idea that all students in South Dakota be educated on and informed of U.S. civics."
"We're anxious to see what all the bill entails."
Gov. Noem also mentioned her intention to bring legislation to "remove an unnecessary testing requirement on homeschool students."
South Dakota Codified Law 13-27-3 states: Each child receiving alternative instruction who is in grades four, eight, or eleven shall take a nationally standardized achievement test of the basic skills. The test may be the test provided by the state and used in the public school district where the child is instructed or another nationally standardized achievement test chosen by and provided at the expense of the child's parent, guardian, or school giving alternative instruction.
ASBSD's legislative resolution B1. Students Receiving Alternative Instruction (Home School Instruction) supports state law ensuring students receiving alternative instruction have their academic progress evaluated to ensure they are receiving a high-quality education.
"We still need to see the language of the proposal, but the beliefs of the Association have always been focused on ensuring all students receive a high-quality education and through assessment we're able to measure the progress of all students," Pogany said.
For updates on legislative session you can stay up-to-date on all that occurs through the ASBSD Blog, Twitter feed, Facebook page and Bill Tracker.