Participation in the p-Card Program continues to see marked growth.
Sponsored by ASBSD, in partnership with the Illinois Association of Business Officials (IASBO), the p-Card Program has grown to 24 districts and handed out more than $55,000 in rebates to members.
"The more districts participating in the program and more dollars spent with the p-Card, the higher the increases for the rebate percentage for the entire group," ASBSD CFO Matt Flett said.
"Financial efficiency is a staple of the p-Card Program, as is the rebate that comes with using the card, and participants are earning those benefits."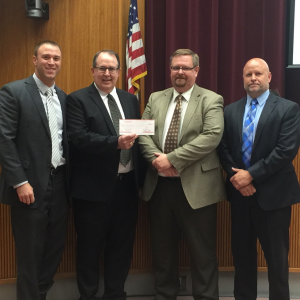 Similar to a credit card, but with customizable credit limits for each card and no maintenance fees, the P-Card program helps reduce office work load and allows administrators to customize purchasing authority and spending levels to fit their district.
And, based on the amount spent using the p-Card, districts are earning rebates.
In 2012, two districts earned more than $10,000 in rebates, with numbers growing to seven districts and $16,000 in total rebates earned in 2013. The following year the number of p-Card program districts doubled and so did the total rebate amount, up to $39,000. Twenty-two districts earned a total rebate of more than $48,000.
This year, more than $55,000 in total rebates was earned by 24 member districts.
"We look forward to continued growth of the program," Flett noted, "and it will continue to offer a flexible, secure, and competitive financial option for schools."
If you are interested in joining the program, please contact Matt at mflett@asbsd.org or 605-773-2515.