South Dakota remodeled its state funding formula in 2016 so ASBSD revamped its School Board U GAVEL Fiscal Responsibility course.
The latest rendition of the fiscal responsibility course – available to you through our online training site – presents the basics on school district finances and helps board members better understand the state's new funding formula, fund accounting, taxes and levies, the opt-out process, what a school district budget entails and their role in the internal financial controls of the district.
"Why this course?" ASBSD Leadership Development Director Randy Royer asks.
"Ultimately, school boards are responsible for every penny, nickel and dime, and all expenditures, that go through the school district."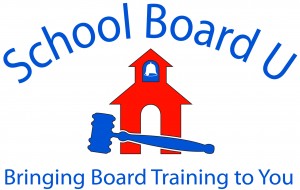 Get up-to-date or refresh your knowledge on the school funding formula and other school finance topics at your own pace and from the comfort of your own home through ASBSD's School Board U GAVEL Fiscal Responsibility course.
Along with the fiscal responsibility course are six other course options: GAVEL School Board Governance, GAVEL Strategic Planning, New Board Member Workshop, Ethical School Board Service, Board President and Superintendent Relationship and ASBSD Collective Bargaining Seminar, that offer new or veteran school board members to gather more knowledge or enhance what they already know.
Check out the list of courses on our Events page at www.asbsd.org and learn more about what you'll learn from our course descriptions.
Want to get all your board members on the same knowledge plane? Follow The Yankton Model!

The Yankton School Board utilized ASBSD's School Board U course options in order for five board members to become GAVEL certified, which placed all board members on the same knowledge plane, and since that time Yankton board members have combined to complete 15 School Board U courses!
School board members signing up for courses will commit only 3-4 hours to the course they choose and won't just follow a lecture and read model, but rather engage with the material through activities and interactive videos.
The cost of each course is $100 per registrant, except for the New School Board Member workshop and Ethical School Board Service courses which are $50, the ASBSD Collective Bargaining Seminar course, which costs $125, and the Board President and Superintendent Relationship, which is free for individuals in those corresponding roles.
If you're interested in registering for a course, contact your district's business manager today.
If you have questions about School Board U, please contact Dr. Royer at 605-773-2504 or rroyer@asbsd.org.