Executive Director Wade Pogany mentioned he felt a growing feeling of "momentum" during the 88th legislative session on the first two nights of ASBSD's Legislative Recap webinar (check the blog Friday for a recap of the session's discussion).
Pogany, acknowledging the potential challenge, said school board members and administrators should focus on advocating for the per-student allocation to be returned to its high point.
"If at all possible, I'd love for us all to get back to $4,805," Pogany said in reference to the state's per-student allocation level of fiscal year 2011 prior to the massive 8.6 percent cut schools took in FY12.
So, what would it take for schools to get back to that $4,805 per-student high point?
For starters, school districts received a three percent increase to the PSA during session for FY14, which was an increase of $135. The PSA increased to approximately $4,626, up from $4,491 this year. It's the first three percent increase since FY10.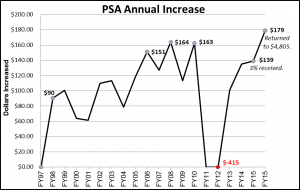 The chart above shows the PSA's annual increase, which includes potential FY15 increases, since FY97 – the first year of PSA implementation.
If school districts receive a three percent increase from the legislature next year for FY15, the PSA would increase by $139, up to $4,765. The increase would be $40 short of the PSA's high point.
An increase to $4,805 for FY15 would require a 3.8 percent – or $179 – increase to the PSA by the legislature next year.
The increase would be $15 more than the highest PSA dollar increase, which was $164 in FY08. The $179 increase required to reach the PSA's previous high point, however, pales in comparison to the $415 decrease schools took on account of the cuts made in FY12.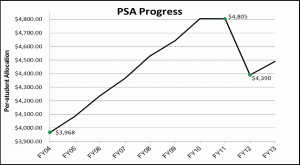 When K-12 funding's "bottom fell out" in 2011, a three percent increase seemed unattainable for the time being. Two years removed from the fall out legislators returned the three percent increase.
School districts remain underfunded, but a return to the highpoint doesn't seem so unattainable.