A career filled with invaluable experience and institutional knowledge in school law is concluding as ASBSD Director of Policy and Legal Services Gerry Kaufman will retire in September.
"My goal, when making the decision to go to law school after serving as a public school counselor for 8 years, was to work in the world of K-12 public education school law," Kaufman said.
"After representing South Dakota public school districts for over 25 years while in private practice in addition to representing other clients, ASBSD gave me the opportunity to work for and devote 100% of my professional time toward K-12 public education."
Kaufman's career school law has spanned more than three decades with his time as ASBSD Director of Policy & Legal Services beginning in 2013. In his tenure at ASBSD, Kaufman has provided valuable testimony and research during legislative session, reviewed, drafted and amended hundreds of sample school policies, ushered in ASBSD's online policy services platform and much more.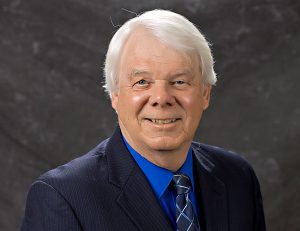 "All of us at ASBSD are grateful for the service Gerry has provided. His dedication to helping schools with their policies and legal questions has been outstanding," ASBSD Executive Director Wade Pogany said.
"Few people have as in-depth knowledge of school law as he does. Gerry has a servant's heart in his willingness to do whatever it takes to help schools through legal issues. His commitment to help solve problems, answer thousands of questions, serve on our advocacy team, and guide the Counsel of School Attorneys has been exemplary."
Reflecting on his experience serving public schools, Kaufman was thankful for the opportunity.
"Having served as the ASBSD Director of Policy & Legal Services for the past 7 years gave me the awesome opportunity to work exclusively in the world of school law and more specifically in and with K-12 public education," Kaufman said.
"I will always be thankful and grateful to ASBSD for the opportunity to serve ASBSD, South Dakota K-12 public education, public school boards, school board members and school administrators, as ASBSD's Director of Policy & Legal Services."