The Associated School Boards Protective Trust (ASBPT) has a new home online.
ASBPT has moved all its online information to https://asbsd.org/index.php/protective-trust/ and you can access the page by visiting www.asbsd.org and clicking the "ASBPT" link at the top of the page:

OR through the "Read More" link found under the "Protective Trust" header located in the middle of the home page on www.asbsd.org: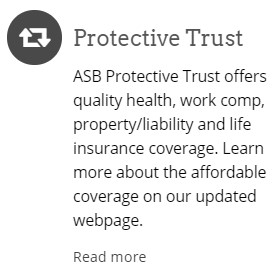 On the new ASBPT webpage, you'll find information about the Trust, each of PT funds and Protective Trust staff, as well as find links to additional ASBPT pages, which can be found under the "More Information" header found near the middle of the webpage:

These updated ASBPT pages will introduce you to the Board of Directors and Advisory Committee members for each fund, share the benefits of each of Protective Trust Funds – South Dakota School District Benefits Fund (Health), Property/Liability and Workers' Comp – and much more.
On the Publications & Forms page you will find many different documents related to ASBPT under the "ASB Protective Trust Documents" header.
"Our goal is for members and prospective members to have easy access to information about the Protective Trust and each fund," ASBPT Executive Director Holly Nagel said of the new webpages.
"Take a look at our new online platform and stay up-to-date on everything related to the Protective Trust."
For inquiries about ASBPT, contact Nagel at hnagel@asbsd.org or at 605-773-2515.